TOURISM: HOTELS SAY LEVEL PLAYING FIELD NEEDED; RENTAL COS. TRY REFERENDUM
Short-Term Rentals Are Fighting Back for Their Place in Tourism Sector
Monday, October 1, 2018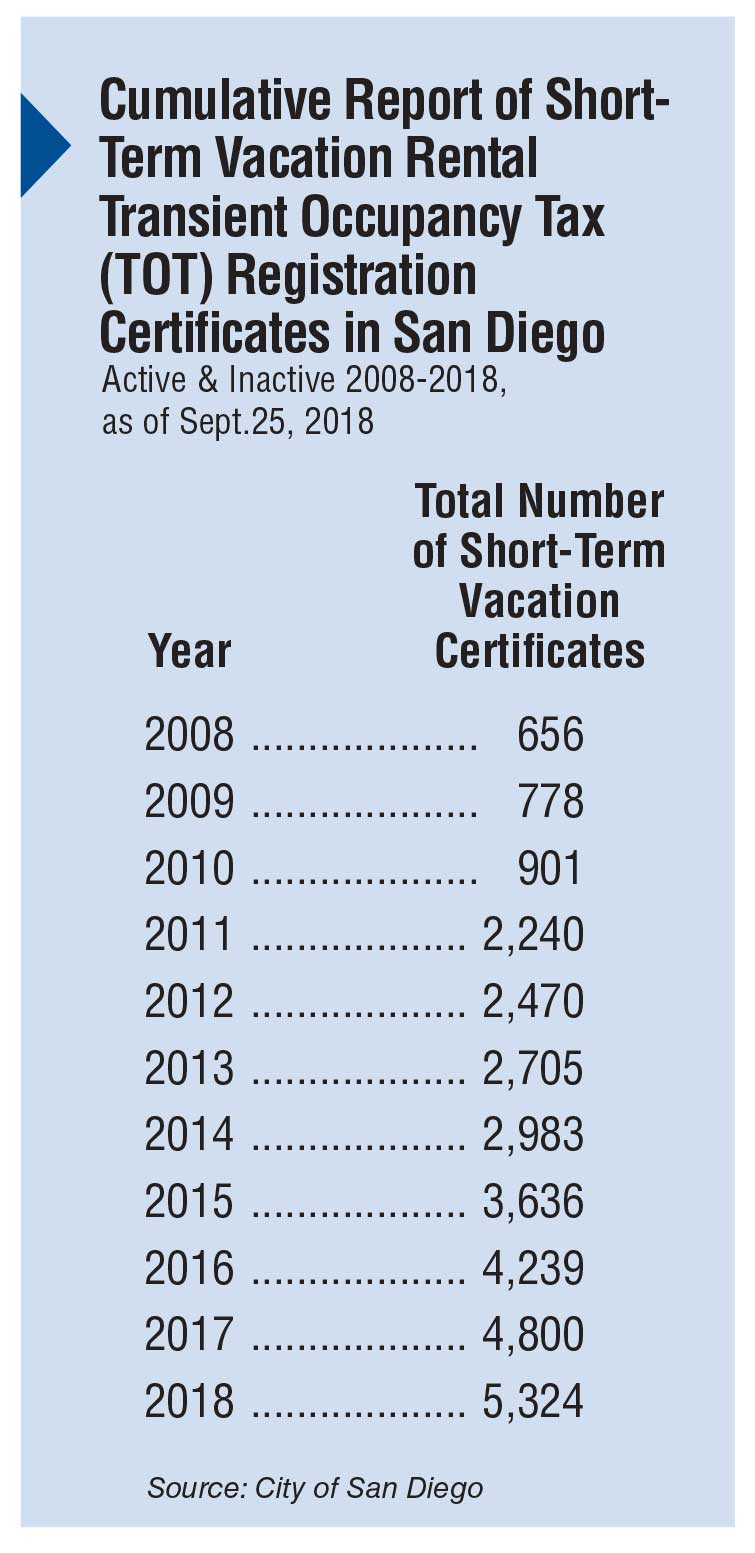 In 2017, San Diego was the second highest ranked city in California for Airbnb with 537,000 guest arrivals, totaling a $100 million in host income, according to the company.
In mid-July, after pressure from residents in certain high-volume short-term rental communities and the California hotel lodging industry, the San Diego City Council voted to outlaw vacation rentals in secondary homes, limiting short-term stays to the host's primary residence for up to six months a year only. Despite protests by those in support of the home-sharing industry and demands from both Airbnb and Homeaway for a new hearing, in early August, the council reaffirmed its decision.
The regulation calls for all short-term rentals of entire homes to be subject to a licensing fee of $949 annually, which is believed to be the highest in the country; short-term rental hosts to pay a housing fee of $3.96 for whole home rentals and $2.73 for single room rentals per night; and Airbnb and Homeaway required to pay stiff penalties if the online vacation rental marketplace companies fail to ensure their hosts are registered.
City Council Decision
Proponents of short-term rentals, including the Share San Diego coalition, gathered and submitted enough signatures for a petition in August to the San Diego Registrar of Voters office for a referendum. On Sept. 25, the petition was certified, as the Office of the City Clerk found sufficient signatures, verified by the Registrar of Voters, to qualify the new restrictions for repeal by the City Council or by voters. The petition will be presented to the council at its next regular meeting Oct. 8, at which point the body can either rescind the ordinance or place it before the voters on a future ballot or by way of a special election.
In a statement, a representative for Share San Diego said this about the certification: "Over 62,000 San Diegans signed the petition to stop the de-facto ban on short-term rentals because they agree there is a better solution than the onerous law that was passed. Short-term rentals are an important property right that help owners, managers and hosts earn valuable extra income, contribute needed tax revenue to the city's budget and have long been a part of the fabric of San Diego."
Home Renting History
The politics of short-term rentals aside, San Diego has long been a popular vacation rental home destination for visitors from around the country and its seaside charm beckoned travelers to its beaches and laid-back vibe long before vacation rental companies arrived on the scene. The city hosts more than 35 million visitors each year, and just this Labor Day weekend, 15,000 travelers used Airbnb to visit San Diego, according to new Airbnb booking data, with Airbnb hosts earning $5.2 million.
Prev Next