TOURISM: HOTELS SAY LEVEL PLAYING FIELD NEEDED; RENTAL COS. TRY REFERENDUM
Short-Term Rentals Are Fighting Back for Their Place in Tourism Sector
Monday, October 1, 2018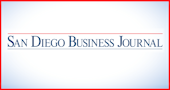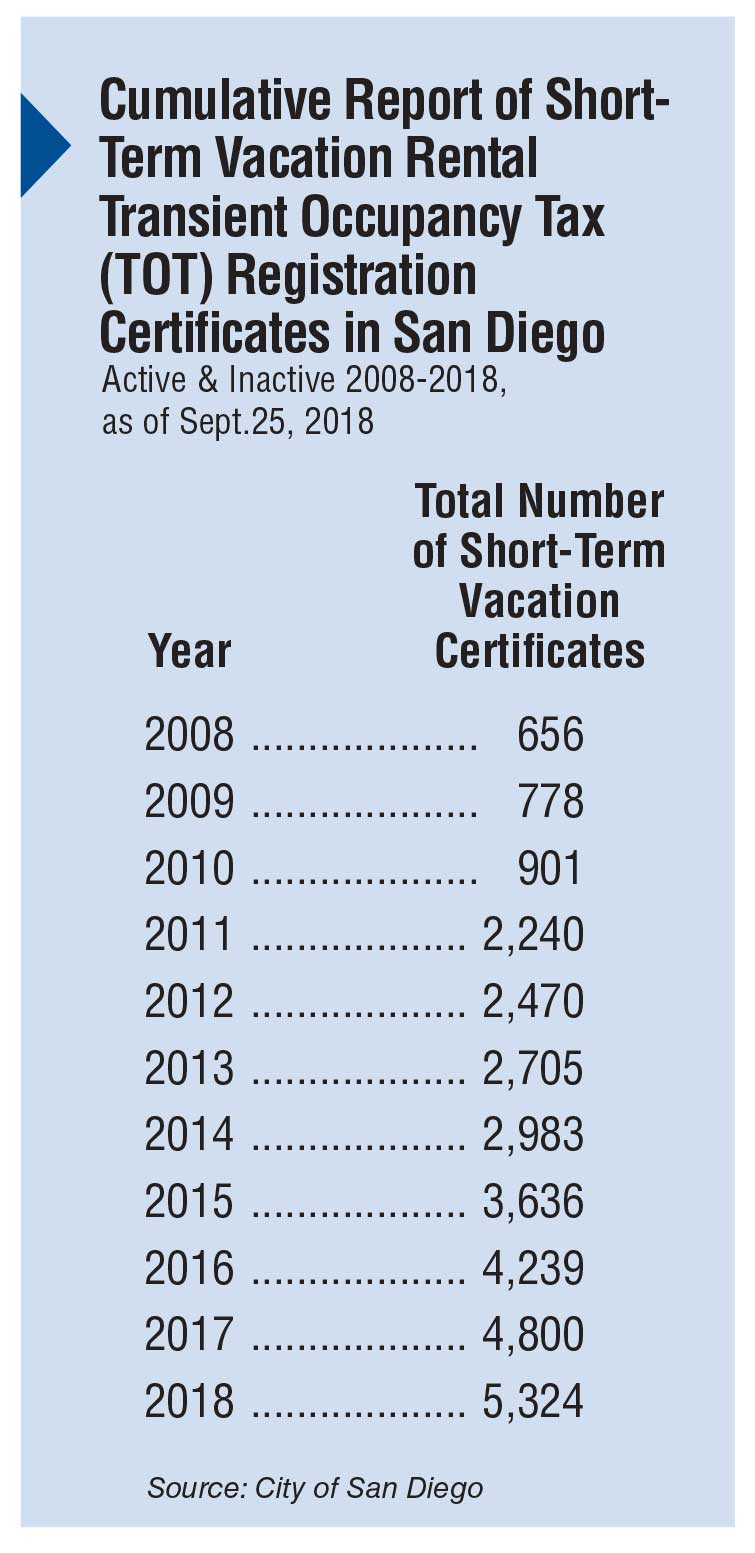 In 2017, San Diego was the second highest ranked city in California for Airbnb with 537,000 guest arrivals, totaling a $100 million in host income, according to the company.
In mid-July, after pressure from residents in certain high-volume short-term rental communities and the California hotel lodging industry, the San Diego City Council voted to outlaw vacation rentals in secondary homes, limiting short-term stays to the host's primary residence for up to six months a year only. Despite protests by those in support of the home-sharing industry and demands from both Airbnb and Homeaway for a new hearing, in early August, the council reaffirmed its decision.
The regulation calls for all short-term rentals of entire homes to be subject to a licensing fee of $949 annually, which is believed to be the highest in the country; short-term rental hosts to pay a housing fee of $3.96 for whole home rentals and $2.73 for single room rentals per night; and Airbnb and Homeaway required to pay stiff penalties if the online vacation rental marketplace companies fail to ensure their hosts are registered.
City Council Decision
Proponents of short-term rentals, including the Share San Diego coalition, gathered and submitted enough signatures for a petition in August to the San Diego Registrar of Voters office for a referendum. On Sept. 25, the petition was certified, as the Office of the City Clerk found sufficient signatures, verified by the Registrar of Voters, to qualify the new restrictions for repeal by the City Council or by voters. The petition will be presented to the council at its next regular meeting Oct. 8, at which point the body can either rescind the ordinance or place it before the voters on a future ballot or by way of a special election.
In a statement, a representative for Share San Diego said this about the certification: "Over 62,000 San Diegans signed the petition to stop the de-facto ban on short-term rentals because they agree there is a better solution than the onerous law that was passed. Short-term rentals are an important property right that help owners, managers and hosts earn valuable extra income, contribute needed tax revenue to the city's budget and have long been a part of the fabric of San Diego."
Home Renting History
The politics of short-term rentals aside, San Diego has long been a popular vacation rental home destination for visitors from around the country and its seaside charm beckoned travelers to its beaches and laid-back vibe long before vacation rental companies arrived on the scene. The city hosts more than 35 million visitors each year, and just this Labor Day weekend, 15,000 travelers used Airbnb to visit San Diego, according to new Airbnb booking data, with Airbnb hosts earning $5.2 million.
In a 2017 report for Share San Diego HomeAway/Expedia, local housing economist Alan Nevin, director of economic and market research at Xpera Group, wrote that short-term rentals contribute more than $480 million annually to the San Diego economy, in addition to the more than 3,000 jobs that vacation rentals support. How the new, more restrictive regulations will play out remains to be seen, but few doubt that it will dramatically slow the burgeoning short-term rental marketplace. While the city continues to pack in conventioneers and tourists alike, some believe the future of the lodging industry is at stake because of the growing inventory of short-term rentals in town, and that data will soon reflect that.
Fair Competition
"The hotel industry got involved because with the commercialization of short-term vacation rentals, where it began to flood the market, it can significantly impact the hotel occupancy. It hasn't yet shown in the numbers, but some people within the industry feel strongly it does affect them already," said Namara Mercer, executive director at the San Diego County Hotel-Motel Association. "And, this is the same across the board, for big and small hotels. It's not just that it is taking away business, it's that if it's going to operate as a lodging establishment, it needs to be regulated as hotels are. That has been our position all along. We have always embraced competition, but, the competition needs to be fair and equitable."
By this Mercer means short-term rentals need to be regulated as hotels are, including paying taxes and similar procedures that provide safe and secure environments. While she says she doesn't personally know of any instances in which an occupier of a short-term rental came across any issues of safety or security in San Diego, there have been national reported stories "where there have been issues in vacation rentals."
Cameron Lamming, president and COO of RAR Hospitality, believes short-term rentals are impacting the hotel industry, pushing hotels to do more.
"Airbnb has impacted the San Diego hotel market largely for tourists seeking lower cost accommodations or larger offerings for large parties. In the most coveted areas of San Diego, Airbnb has taken a bit of market share from San Diego hotels, regardless of the price and size, which has pushed our own hotels to offer special and unique experiences that short-term rentals cannot offer including top-notch customer service and modern amenities and technology," he said.
Joe Terzi, president and CEO of the San Diego Tourism Authority, says the short-term rental market has demonstrated it can co-exist with the lodging industry, and that current numbers back that sentiment.
"Part of the concern is short-term rentals are taking hotel units off the market, yet, hotels in San Diego still run at 90 plus percent even with all our Airbnb rental options," he said. "Airbnb controls more hotels in the world than the hotel companies. But, San Diego had the highest occupancy it has ever had the last three years. So, is the short-term rental market affecting this? It hasn't demonstrated that it is having a negative impact. Taxis don't like that Uber exists — it is a change and a disrupter in the world of fast-moving opportunities. But, those haven't gone away, either."
According to the city of San Diego, from December 2017 through July, 636 short-term rentals were added in town. A check of the Airbnb listings in several neighborhoods across San Diego in mid-September showed the prices vary widely; some homes in posh neighborhoods listed for thousands of dollars per night, while studios in Little Italy and Mission Beach listed for as low at $90/night.
mid-September showed the prices vary widely; some homes in posh neighborhoods listed for thousands of dollars per night, while studios in Little Italy and Mission Beach listed for as low at $90/night.
It Isn't Going Away
Despite the impending regulations, some say short-term rentals and businesses that cater to it, are here to stay, even if it means going "underground" by going straight to customers via sites like Craigslist and various online marketplaces. Terzi says while some people don't support the flexibility of products like Airbnb, the multibillion-dollar business isn't going away, mostly because short-term rentals existed in San Diego before it.
"It really is different in San Diego because many of the products Airbnb promotes now have been vacation rentals along the beach forever," he said. "Airbnb didn't create these thousands of vacation rentals, they already existed, unlike other cities that maybe didn't have this as a part of their components." Terzi says the largest number of Airbnb rentals for San Diego is in the summer because of the many beachfront options.
Carl Winston, director of the L. Robert Payne School of Hospitality & Tourism at San Diego State University, agrees, stating regardless of stiffer laws that might wipe out some of the more casual hosts, the sharing economy in San Diego will most likely continue to grow.
"I see scooters all over, I've ridden an Uber twice today so far, and about to go on my third ride. I don't think Airbnb is going away that easily," he said. "It's always been in San Diego in some form or another, except before we called a vacation rental company and handled it that way. But, Airbnb turned more people to turn inventory into this. San Diego is big in this aspect because it started doing this before Airbnb existed."
Winston said he believes while the short-term rental marketplace will "get regulated over time," it will continue to thrive.
Jasmine Mora, an Airbnb spokesperson, says the stiffer rental restrictions will have a significant negative economic impact on San Diego, stating that not only do Airbnbs help visitors access the California coast, the rentals also bring other travelers who come to San Diego for medical treatment or for major events like Comic-Con International and the LGBT Pride Parade.
"For Comic-Con, we saw over 21,000 guest arrivals in San Diego (July 19-22) and for the LGBT Pride Parade weekend, over 15,000 people used Airbnb," she said, adding that there are over 6,000 Airbnb hosts in San Diego, and last year, they welcomed 537,000 guests to the area compared with 444,000 in 2016. She suggested that "Rather than ban second home vacation rentals, San Diego should adopt reasonable regulations that stop out of town investors, include funding for enforcement and affordable housing and create a streamlined registration system."
AirDNA, a company which gathers, provides and forecasts data and analytics for vacation rental hosts and Airbnb and Homeaway, shared that the number of total available listings in San Diego of an entire place is estimated to increase from 7,675 in 2017 to 8,415 in 2018. Booked listings have increased for entire homes from 6,507 in 2017 to an estimated 7,444 in 2018. The amount of room nights for an entire place was 336,451 in 2017 and forecast to be 398,022 in 2018. And, the occupancy rate of an entire place is expected to increase from 68.3 percent last year to almost 70 percent this year.