Boxing Club Brings Exposure, Fitness and Style To Retail Space in Mixed-Use
Monday, October 1, 2018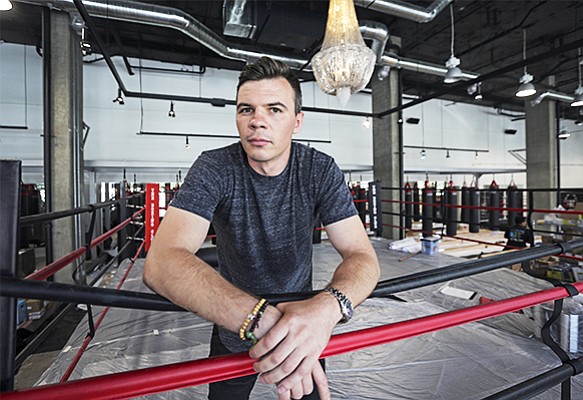 Running along the east wall are rows of about 40 heavy boxing bags hanging from an 85-foot-long metal rack.
Not Just Boxing
The north end of the large room is filled with exercise equipment including treadmills, rowing machines, step machines, elliptical training machines, and stationary bikes.
"People assume that we are just a boxing gym," said Sharoshkin, co-owner of the business. "We actually have state-of-the-art exercise equipment, just like a regular gym."
The west wall of the club is all floor-to-ceiling glass windows, which were among the attractions the drew Sharoshkin to the Shift building. 
Passers-by get a full sense of what the club does as they walk by Shift from one end to the other.
"The (window) glass line basically tells the story," Sharoshkin said. "You see every element of The Boxing Club."
To one side of the center boxing ring inside is a training area where boxing and martial arts classes are offered, and a smaller boxing ring.
At the far south end is "a room within a room" of about 800 square feet with five-inch thick foam mats covering the floor for martial arts practice sessions.
Sharoshkin added a mezzanine at the east side of the main room. The mezzanine has separate studios for Pilates, yoga and Spin bicycling classes.
Berg said she knew little about boxing or martial arts when she signed up to design The Boxing Club.
"I've seen "Rocky," Berg said.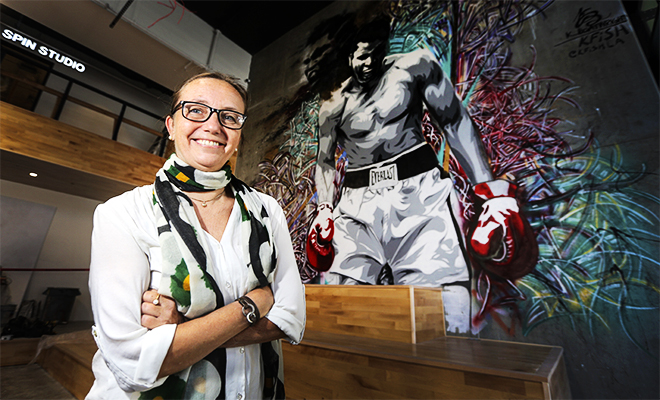 Design Inspiration
She'd also seen "Fight Club," a 1999 movie starring Edward Norton and Brad Pitt that became Berg's inspiration for designing The Boxing Club after she saw it again.
"I'd seen the movie years ago. I was inspired by it just because it's normal people fighting and a guy really fighting with himself," Berg said.
There's even an eight-foot-by-eight-foot painting of a battered Norton mounted on the wall between the men's and women's locker rooms.
"He looks completely beaten up, but you see he's smiling and happy," Berg said.
Berg said she tried to capture that mix of opposites, what she calls the "yin and yang" of boxing, martial arts and strenuous training in her design offset by softer elements.
In the case of the Norton painting, "When you've done a really hard workout and you see him, you say, 'I'm happy," Berg said.
The Boxing Club itself has those contrasts running throughout it.
The flooring and some of the walls are made of beech wood, which is commonly used for sports flooring, such as basketball courts.