Local Cos. Blend Tech and Health Care to Give Seniors Tools to Cope
Thursday, November 29, 2018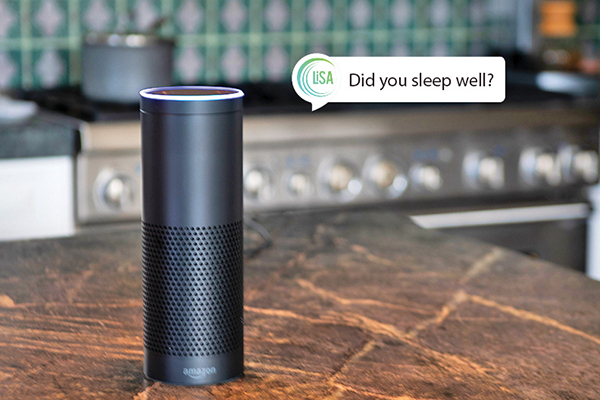 Dan Deninger — an Oceanside senior unversed in computers or smartphones — dictates messages to his assistant, Lisa. She also chimes in with medication reminders, historical facts and what's coming up on the calendar.
Lisa, however, is not a person. She's a voice-activated assistant that requires a digital speaker like Amazon Echo or Google Home.
Cuida Health recently launched Lisa, joining the ranks of several other San Diego firms with senior-tailored software. With upstarts and well-established companies, executives interviewed said San Diego emerged as a leader in the market.
The Goals
In a health care industry stretched thin by the silver tsunami, these technologies aim to stave off loneliness, boost health and increase senior independence.
Deninger, 75, indicated that Lisa ticks these boxes.
"It's like talking to a real person," said Deninger, who retired from the auto industry. He added he appreciates the hands-free technology, because he was never able to grasp computers despite taking classes, and macular degeneration makes texting tough.

Cuida isn't alone in pursuing voice technologies, as several platforms integrate with digital speakers.
CEO Tom Watlington said Lisa is conversational with first-rate voice recognition, differentiating the app from other offerings. The technology has personality, too. During a recent demo for a reporter, Lisa before going quiet urged the user to "stay away from Siri," the voice of Apple products.
"Lisa always knows what you're talking about, whether it's something related to your calendar, or social activities, or asking a question about your health, she always knows the context," Watlington said.

"The other thing we've done is developed methods to change the voice so it's not so robotic. We've become quite good at changing the cadence, the pitch."
With a pilot study under the belt, Cuida Health is initially targeting senior communities.
For companies in this market, a direct-to-consumer strategy is often too expensive. That's per Laurie Orlov, an analyst and founder of Florida-based Aging in Place Technology Watch.
"It's a very tough space, and I would argue that it's rarely a direct-to-consumer market. You have to find the channels that will bring you into the marketplace," said Orlov.
An exception: GreatCall, which began with a model of directly marketing senior-specific services and cellphones, like the Jitterbug with large buttons and a bright screen. GreatCall was headquartered in San Diego until being acquired in 2017 by private equity firm GTCR in 2017, and this year Best Buy bought GreatCall for $800 million.
Under a recent five-year deal with a health insurer, GreatCall is now expanding into monitoring high-risk seniors at home. It does this through sensors tracking sleep, movement and other activities, and then predictive analytics are designed to catch health anomalies.
Privacy Concerns
That gets into privacy. To quell concerns among seniors and their families, Orlov said companies must take care to encrypt data and explain upfront how information will be used.
"The voice-related technology, in particular, has made some older people nervous," she said.
Most software geared toward seniors uses existing platforms, far less expensive than manufacturing devices. The approach comes with the advantage of familiarity as well.
Independa leverages the fact that people 65 or older watch more than 50 hours of TV a week. The company's software delivers video chat, picture sharing and integrated services to a person's TV screen — sans computers, passwords or virus scans.
"Engagement is the most important thing," said CEO Kian Saneii. "Pretty much everyone has recognized and is talking about the role of social isolation and loneliness leading to all sorts of things, including clinical depression."
Rollouts With Major Brands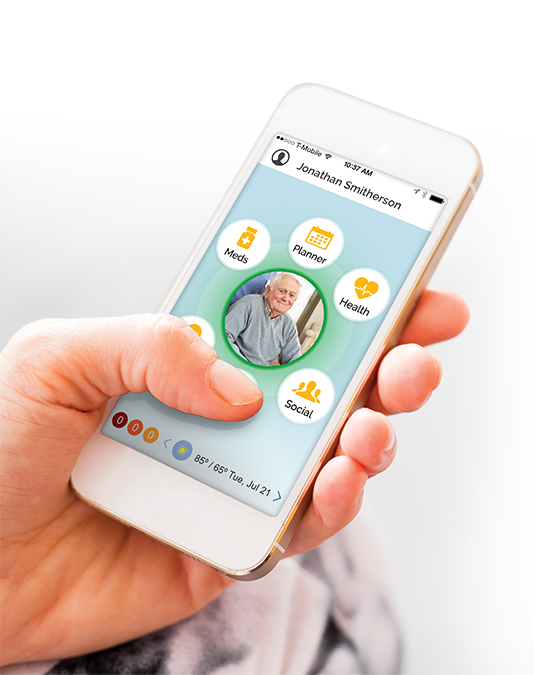 Independa's subscription service is primarily marketed toward senior-living communities, home care organizations and hospitals. In addition, the company recently announced a partnership with satellite TV company DISH.
"You're catching us at an inflection point," said Saneii of the company, founded in 2009. "We are now doing national rollouts with some major brands."
Living here led Saneii to start the company in San Diego. But advantages of the region became clear later, such as support from Qualcomm Life, the health care subsidiary of Qualcomm, which took Independa to major tech conferences in early days.
Watlington of Cuida Health and Saneii said GreatCall put San Diego on the map in elder care — and established a regional talent pool.
Partnering With Device Cos.?
What's next? Saneii envisions partnerships between companies like Independa and San Diego's larger medical device cluster.
"We sit right in the sweet spot of the consumerization of health care," he said of the region.

Rather than run its software on existing technology, Dthera Sciences created senior-friendly tablets from square one. Tablets off the shelf were deemed too quiet, weren't durable enough and interfaces were needlessly complex.

The company's cloud-based platform enables family members to send videos and photos paired with descriptions to engage dementia patients. Facial recognition and artificial intelligence learn what these seniors like viewing, then encouraging a family to send similar content.
The service, complete with a tablet, launched in August with a $33-a-month subscription.
That's the consumer version. This summer, Dthera became one of the first digital therapeutics companies to earn a breakthrough designation from the U.S. Food and Drug Administration, setting up an eased regulatory path.
FDA approval would make Dthera eligible for insurance reimbursement, and give weight to the company.
Dthera's product delivers what's called reminiscence therapy — reminding a senior of their past.
"It's like someone is on a ship in a storm, the boat is spinning, and you're just trying to give them a lighthouse," said CEO Edward Cox in September.

Most senior software is geared toward the mind, but Reflexion Health offers a virtual exercise system, with an avatar, audio-visual feedback and remote monitoring.
The company now has data on hand backing the technology.

A study following patients on the mend from total knee surgery found a person using Reflexion's Vera system saved the health care system $2,745 on average, due to decreased hospital readmissions and fewer post-acute care visits.
That's according to a first-of-its-kind clinical trial conducted by Duke Clinical Research Institute. Results were released last month.
SEE MORE: Manageable Technology Makes Aging in Place More Possible