FINANCE: BANKS BACK EFFORTS; INFRASTRUCTURE AND HOUSING PART OF THE PLANS
Nonprofit LISC Looks to Give Little Saigon Chance to Develop
Thursday, November 22, 2018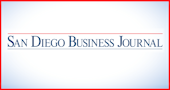 Many years into the future, when out-of-town visitors decide they want to grab a great bowl of pho, they may head en masse to San Diego's Little Saigon district — just as today's tourists go to Little Italy for pasta.
That's how Ricardo Flores sees it. Seated in a pop-up, outdoor café on a vacant lot on El Cajon Boulevard, Flores described how an older, low-rent neighborhood might grow into a tourist destination. Slowly, with the help of the banking community and a city-planning document that Flores hopes to make law, the gritty avenue will take on a Southeast Asian vibe. Mom-and-pop businesses like restaurants will be able to grow, and new housing for low-income residents will go up.
Flores — a former aide to elected officials at City Hall and in Washington — is animated as he describes the project. He is now executive director for the San Diego affiliate of LISC, or Local Initiatives Support Corp., a nonprofit organization that helps develop low-income communities.
Supporting LISC
For-profit institutions, namely banks, give LISC San Diego the leverage it will need to make changes.
Bank of America recently gave LISC $200,000 to get economic development going along this eight-block stretch of boulevard, east of Interstate 15 between Highland Avenue and Euclid Avenue.
BofA calls its grant the Neighborhood Builder Award. It is payable over two years, and part of the sum will fund leadership training for Flores and Kwofi Reed, strategic investment officer at LISC San Diego.
Infrastructure Improvement
Another part of the grant will fund, first, the creation of an infrastructure financing district to pay for street improvements on El Cajon Boulevard and, second, a planning document for Little Saigon. The latter, called a Specific Plan, will offer guidelines for future construction, which will have to conform to a certain style and reinforce the Saigon theme.
The bank wants its annual Neighborhood Builder Award to be "deeply impactful and catalytic," said Stephanie Barrett, senior vice president and senior asset manager with Bank of America Merrill Lynch. By catalytic, she means able to spur additional investment.
Neighborhood Catalyst Fund
LISC has received other significant support from the banking community. U.S. Bank recently agreed to lend $2 million through LISC. The sum will go into what the nonprofit corporation calls its Neighborhood Catalyst Fund to spur development of older neighborhoods of San Diego. The sum could conceivably jump-start a low-income housing project in Little Saigon — but it just as easily could go toward a similar project in a similar older neighborhood.
Low-income housing projects are needed but hard for the private sector to finance, Flores said.
The national LISC organization has agreed to match local funds on a 4-to-1 basis, making the $2 million pot of money into $10 million. Gordon Boerner, a local senior vice president with U.S. Bank, described the money as "patient early-in A&D risk financing for affordable housing developers in the region." That is, the loan will help a developer buy and get entitlements to build a low-income housing project on the land he wants to develop, before getting construction financing lined up. The capital is patient, he said, because the process of getting land ready for development (particularly lining up entitlements) can tie a project up for years.
Community Reinvestment Act
Why loan money to fund developments at such a delicate, early stage?
Boerner said it's the right thing to do — but it also helps U.S. Bank when it comes time to meet with federal bank regulators. The 1977 Community Reinvestment Act calls on banks to creatively meet the needs of underserved individuals and communities, said Boerner, who is regional private banking manager for U.S. Bank's West U.S. Region.
Like Boerner, BofA's Barrett said her institution wants to give back to the communities it serves.
Both executives serve as co-chairs of the local advisory board for LISC, and Boerner said he is confident LISC can handle the money responsibly.
Boerner said the organization is seeking up to $8 million more for the Neighborhood Catalyst Fund. If matched 4-to-1, the fund will have up to $50 million to spur development of affordable housing.