DJO Global Acquired for $3.15 Billion
Tuesday, November 20, 2018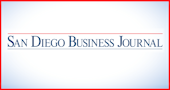 Change is blowing through DJO Global, after the medical device company announced plans this summer to relocate from San Diego to Texas. Then came news on Nov. 19 that DJO was acquired for $3.15 billion.
Maryland-based Colfax Corp. will pay all cash for DJO, currently owned by private equity firm Blackstone Group. DJO grew from a garage startup in Carlsbad to become one of North County's largest private employers.
The company's orthopedic bracing products and services posted 2017 sales of $1.19 billion. Colfax's products range from welding equipment to compressors and turbines.
The deal, Colfax said, would diversify its portfolio, reduce cyclicality and increase profitability. The company also stated that it's evaluating options for its air- and gas-handling business, including a potential sale.
In August, DJO announced it would lay off 187 local employees and relocate its headquarters from Vista to Dallas, Texas. Some of those employees were offered relocation packages, and the company said it would keep 300 employees in North County.
The acquisition won't affect San Diego operations, said a DJO spokeswoman in an email.
Brady Shirley, DJO's CEO, will run the company as a segment of Colfax. He'll report to Colfax CEO Matt Trerotola.

Colfax's pivot to medical devices appears to have rattled investors. The company's stock fell 13 percent Nov. 19.