Cleaning Co. Sees Chance to Shine By Tackling Dirty Jobs
Monday, November 19, 2018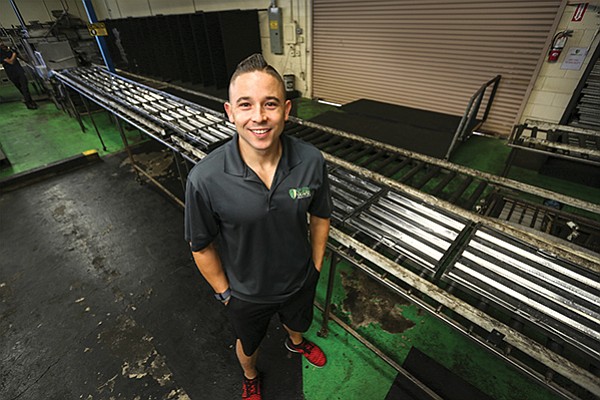 Good customer service goes a long way. Just ask Green Guard Services Inc. President and CEO Nathan Leathers.
GREEN GUARD SERVICES INC.
CEO: Nathan Leathers
Revenue: $5.2 million in 2018 (projected)
Year Founded: 2009
Headquarters: Escondido
No. of Employees: 60
Description: A company that provides kitchen exhaust and deep-cleaning services.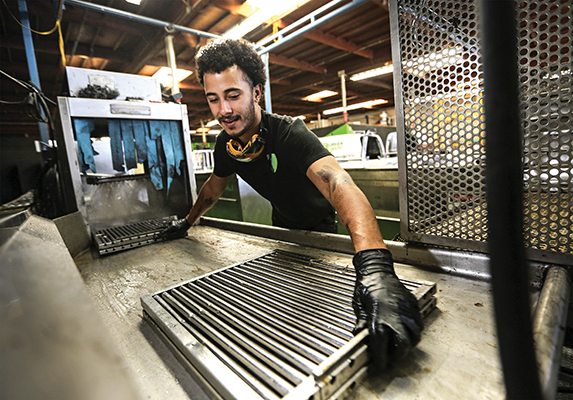 The San Diego-native founded the kitchen exhaust and deep-cleaning company in 2009 and attributes most of his success to his approach of treating a blue-collar business like a true service corporation.
"This is a job where we get greasy and dirty and wet, all overnight," said 37-year-old Leathers, who graduated from California State University San Marcos with a degree in business. "It's like a mechanic shop or a plumber job, and that is essentially what the competition is like. In general, small businesses do service with a lack of business acumen. But, for us, it's the reverse."
Leathers says the company guarantees a response to its clients in 30 minutes or less, which is practically unheard of in the service industry. He adds this is what has continually gotten him referrals, thus, steadily growing the business. The Escondido-based company, which has 60 employees, grew from $40,000 annual revenue in 2011 to $250,000 in 2014 and is expected to reach $5.2 million by the end of this year. Some of the company's 1,500 clients include San Diego State University, Five Guys, McDonald's, Carl's Jr., Burger Lounge, Nordstrom and a handful of prisons.
The Competition
Leathers says although there are about 75 other companies like his in the San Diego area, Green Guard is successful due to its focus on the customer and the thoroughness of its services.
The main service line for Green Guard is cleaning hoods affixed to restaurant kitchens, which is done through a mobile system called the Landa pressure washer. The potent piece of equipment is included in all 15 of the company's vans, which each having $35,000 worth of machinery in them. Leathers likens the apparatus to a carpet cleaning system, "but more sophisticated," he says, adding its hose is hundreds of feet long and can reach a heat level of 275 degrees. "If you spray it on full blast, it will chip the asphalt or cut your foot or hand," he said of its power.
At the company's 20,000 square foot Escondido warehouse, Green Guard has a custom heated pressure washer and soak tanks. Parts like removable metal filters are brought to the headquarters for special processing. The metal filters are the first line of defense in the kitchen, as they catch most of the grease accumulated when cooking.
Third Shift Work
The company's more than 40 technicians mostly work off-site during the third shift, providing nearly 200 services nightly, mostly in San Diego, Orange County and Los Angeles, returning in the early morning to the home base to finish any in-house treatments.
"Service cost varies depending on length and other factors," said Leathers, and ranges from $500 to $2,000 per call. The exhaust equipment cleanings, that generally happen quarterly, are required by state law and insurance terms and conditions, he said. Meanwhile, filter cleaning runs between $6 and $20 a filter and is generally done every two weeks.
Although Green Guard has found its niche, it took a while for the company to find its rhythm, says Leathers. The company originally started off cleaning bars and patios. But clients were seeking a more detailed and professional kitchen exhaust cleaning service.
Customers told him other companies were not responding to inquiries in a timely fashion and doing overall sloppy jobs, Leathers said. Noticing a need, Leathers decided to step in and fill the gap.
"That (professional) area didn't exist in San Diego, so, we learned how to do it and that is how we started that," he said.
Wendy Patrick, a business ethics lecturer at San Diego State University, says "there is a real premium put on transparency in terms of what businesses do to go the extra mile.
"A company that markets itself this way has a leg up on the competition," Patrick said. "They are showcasing excellent customer service with their speed in calling clients back and also assuring customers they will have a beautiful, legal, up-to-code and safe place to work in. I'm not surprised they are head and shoulders above the rest."
Managing Cash Flow
In 2013, four years after launching, Green Guard began performing the procedure, and immediately saw a boost in business. The company grew from running out of Leathers' home to a 750 square foot office to a 4,000 square foot space and then an 8,000 square foot location, before signing a lease at its Escondido headquarters a year and a half ago. "We've moved more than I've cared for," said Leathers, but it's all a testament to the company's continual growth.
Leathers adds the company's biggest challenge is managing cash flow, mostly because it performs the services upfront and gets paid later. "Restaurants historically are not great at paying on time," he said. "Sometimes we are turning a quarter million-dollar corner before we get paid, and we spend $2.5 million annually or more on just payroll alone."
The other pitfall is staffing, as the demanding labor performed mostly at the wee hours of the night can be taxing. People are getting greasy, using strong chemicals and working late nights, all for minimum wage, says Leathers. To help compensate, Green Guard offers a competitive package that includes health benefits, 401(k), dental and vision.
Software Change
In the next six months or sooner, the company will make a major software change that will automate its entire system, including scheduling, auto-routing and sending inspection reports to clients without human interaction.
"The automation will allow us to spend more time doing our work," said Leathers, as he and his team continue to treat this manual labor-intense industry with a white-collar approach to ensure safe restaurants and satisfied clients, one hood cleaning at a time.