Ehrich Named CMO of Expansion Therapeutics
Monday, November 19, 2018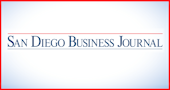 Elliot Ehrich, previously with Alkermes Plc, is the new chief medical officer of San Diego biotech startup Expansion Therapeutics.
Expansion emerged in January with $55.3 million in series A financing. It's initially focused on about 30 genetic diseases called expansion repeat disorders. Among them: myotonic dystrophy type I (DM1), the leading cause of adult onset muscular dystrophy.
Prior to Expansion, Ehrich was the chief medical officer of the global pharmaceutical Alkermes, where he led the research and development division. Before this, he was at Merck & Co., overseeing the clinical development and registration of novel pharmaceuticals.
Ehrich is also a venture partner at 5AM Ventures, a venture capital firm that co-led the series A round.
Expansion Therapeutics was incubated within 5AM Ventures' 4:59 Initiative and later spun out of the Florida-based division of La Jolla-based Scripps Research.
Expansion is headquartered in San Diego, with research operations in Florida.