Cibus Files for $100M IPO
Monday, November 19, 2018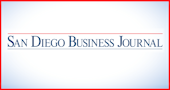 Cibus – a San Diego company that uses gene editing to select desirable plant traits – is seeking $100 million through an initial public offering.
"Our gene-editing approach accelerates the processes that underlie natural breeding and provides a versatile and low-cost means to increase crop yields for farmers, to develop healthier food for consumers, and to reduce waste for a sustainable agricultural ecosystem," said the company in recent U.S. Securities and Exchange Commission paperwork.
In July, Cibus raised $70 million in a series C round, funds that partly went toward commercialization of its first product: branded canola seed.
The company's products aren't designated as genetically modified organisms, or GMOs, which incorporate DNA from other species and are subject to strict regulations.

Cibus said it expects to launch three canola hybrids in 2019, among other products. That's one pillar of its commercial strategy. The second is to develop and license crop traits to leading seed companies.
The company has 134 employees, according to SEC paperwork.
Last week, San Diego's Synthrox filed for a $100 million IPO.