New Plan Aims to Equip Underutilized Workforce For Innovation Economy
Thursday, November 15, 2018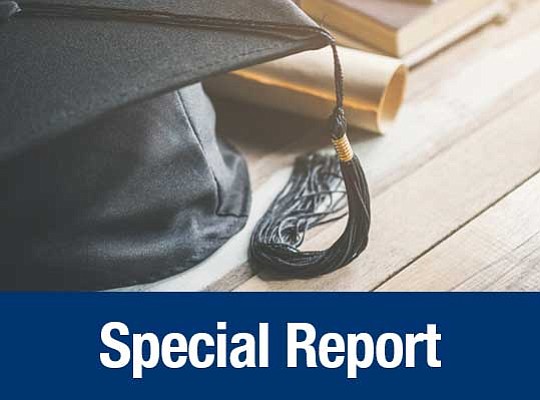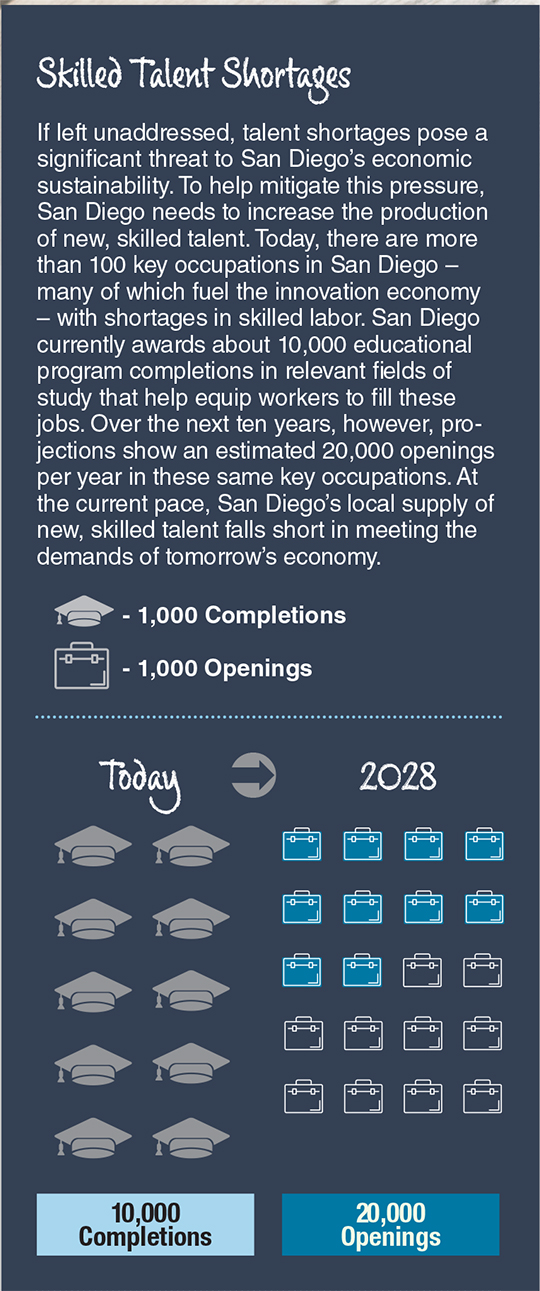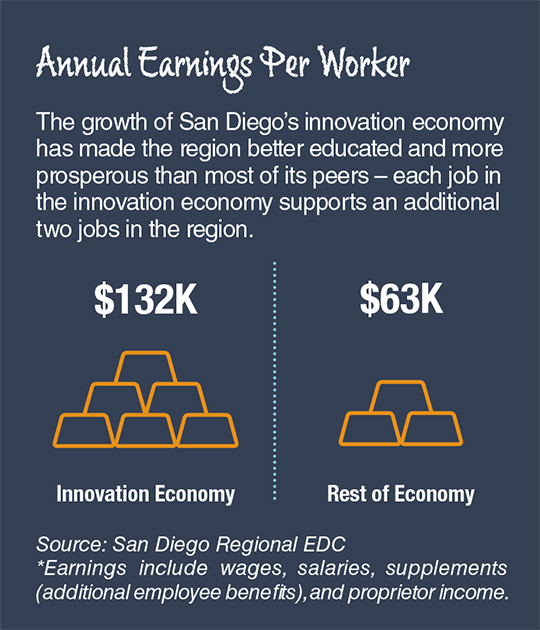 San Diego County faces a steep challenge when it comes to preparing enough workers with the right skills to fill high-tech jobs in the coming decade, a recent study found.
The analysis conducted by the San Diego Regional Economic Development Corp found the San Diego region must double its output of skilled workers with degrees and other post-secondary credentials, to fill what are projected to be 20,000 new jobs per year by 2030. Currently, the study found, the region's educational institutions produce about 10,000 skilled workers per year.
The study, released in September, focused on what the EDC calls the innovation economy, which includes a range of companies in such sectors as telecommunications, the defense industry and life sciences, which need workers with skills and education beyond high school diplomas.
The Innovation Economy
Eduardo Velasquez, research manager with the EDC, said the innovation economy employed 139,000 people in 2017, about 9 percent of the jobs in San Diego. But the jobs are an important engine for the local economy: Innovation economy jobs pay (in total compensation) an average of $132,000, compared with the average of $63,000 for jobs in the rest of the economy.
Today, Velasquez said, there are several thousand high-skilled jobs needing to be filled at any one time; that gap is expected to swell to 10,000 jobs per year over the next 10 to 12 years.
"A big part of what companies need to be successful and competitive is a reliable source of talent," Velasquez said.

In finding enough skilled workers to fill tech jobs, San Diego faces headwinds, from its relatively high cost of living to competition from other metro areas across the country. That's why the EDC and other business leaders believe San Diego needs to produce local talent to fill jobs in the innovation economy.
A Lack of Higher Education
Another key finding from the study is that Hispanics in San Diego are less likely than other ethnic groups to be prepared for college when they leave high school.
"Only about a third of the recent (high school) graduates who are Hispanic meet the requirements for the California State University or the University of California," Velasquez said.
If both African-Americans and Hispanics are brought up to the same level of college readiness as whites (56 percent), said Velasquez, "we would more than fill that 10,000-job shortage. We'd actually have a local talent surplus, if those two populations were performing as well as the white population."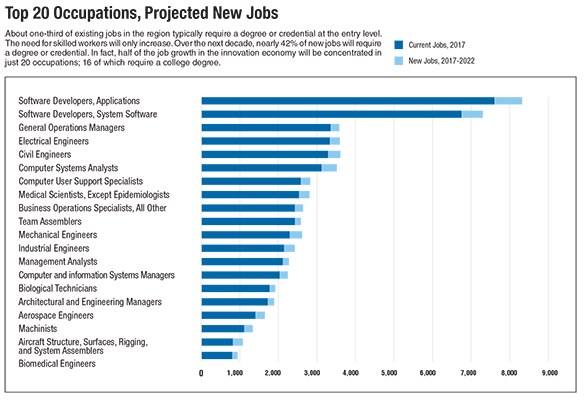 Business Community Backing
A group of 40 San Diego employers,including such well-known names as Qualcomm, Northrop Grumman, Kaiser Permanente and the San Diego Padres, have endorsed the goal of doubling San Diego's output of skilled workers over the next 12 years.
The study identified more than 100 key occupations with shortages in skilled labor, many of them tied to the innovation economy. According to the EDC, those jobs include aerospace engineers, air traffic controllers, phlebotomists, surveyors, and wind turbine service technicians.
With a booming economy and more jobs than skilled workers to fill them, "it becomes a war for talent. It is a challenge," said Alfredo Ramirez, vice president of research, technology and engineering with Northrop Grumman Aerospace Systems. The company employs about 3,000 workers in San Diego, and its flagship program is the Global Hawk, an unmanned aircraft used by the U.S. Air Force. The company also produces the Triton, an unmanned aircraft used by the Navy.
The company has a number of programs designed to help educate the skilled workers it needs, from outreach to K-12 schools to internships for high school and college students.

The idea of the K-12 programs, said Ramirez, is "to encourage and entice young minds to explore and consider going into STEM (science, technology, math and engineering) fields."
Earlier this year, the Del Dios Academy of Arts and Sciences in Escondido opened a new STEM lab funded by a $100,000 grant from the Northrop Grumman Foundation.

The company also has long-running internship programs for high school and college students to introduce them to a variety of jobs within the company. "We put them to work. They are making a contribution, they are making a difference," Ramirez said. Many of the students who participated in the internship program have gone on to work for the company, he said.
Health Care
Another employer wrestling with San Diego's shortage of skilled labor is Kaiser Permanente, which provides medical care to about 625,000 San Diego County residents, with a workforce of 9,265 employees, and nearly 1,400 physicians.
One factor making it tough to find and retain skilled employees, said Jane Finley, Kaiser's top executive in San Diego, is the current wave of retirements taking place across the nation. "We are looking at sustaining a workforce that is going through a silver tsunami," she said, with some 10,000 baby boomers reaching retirement age every day in the United States.
"The workforce is something that's on the top of our minds and on the top of mind of every health-care provider in San Diego," Finley said.
Kaiser also has a number of programs aimed at developing the health-care workers of tomorrow, from support of STEM programs for school children, to hands-on training programs for students at local colleges and universities who are studying in such fields as nursing, physical therapy, nutrition and dietary services and as radiology
technicians.
Opening a Medical School
In addition, each year Kaiser trains doctors through programs for medical students, residents and fellows, who are specializing in specific areas of medicine. In 2020, Finley said, Kaiser plans to open its own medical school in Pasadena, and local Kaiser hospitals will help train third- and fourth-year students from the new medical school.
For seventh- and eighth-graders, Kaiser runs a program called "Hippocrates Circle," which aims to familiarize youth from under-represented communities with potential careers as physicians.
Finley said she believes the goal of producing 20,000 skilled workers per year in San Diego by 2030 is "doable.'
"I really support the EDC's vision of developing the economy of San Diego from within," Finley said.

In order to meet its goals for producing home-grown talent, the San Diego region must close the education gap between Hispanics, blacks and the white population, said Patricia Prado-Olmos, vice president of community engagement with Cal State San Marcos.
As an example, the EDC study found that although Hispanics represent 34 percent of San Diego County's population, they account for only 17 percent of workers in the innovation economy. As of 2017, only four percent of San Diego's degree holders were African-American and 15 percent were Hispanic, while whites comprised 62 percent of degree holders.
"When I look at those statistics, I see an urgent imperative," said Prado-Olmos.
Closing that gap and filling San Diego's talent pipeline will take a range of solutions, she said, including partnerships between universities, colleges, K-12 schools and employers.

'Fire Their Imaginations'
"There's no single answer here," she said. But working with younger students is definitely part of the answer, she said: "to fire their imaginations and motivate them to dream big."
One such program brings middle and high school students to the Cal State campus for field trips.
"The students report that the field trips were one of the most impactful events that made them think about college. When they come to Cal State San Marcos, they see students who look like them," she said.
"It's going to be those personal outreach moments that are going to change the tide," said Prado-Olmos.
Click here to view the full EDC study.