Arena Nets $800M Upfront in Licensing Deal
Thursday, November 15, 2018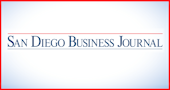 Arena Pharmaceuticals on Nov. 15 announced a drug licensing deal that provides the company with ample cash to devote to other medicines in its pipeline.
United Therapeutics gained the global rights to Arena's ralinepag, a drug in late-stage testing, or phase 3. In return, Arena will receive up to $1.2 billion, including $800 million upfront and potentially $400 million in milestone payments. Should the drug win approval, Arena is eligible for royalties.
In May, Arena CEO Amit Munshi told the San Diego Business Journal that Arena planned to self-commercialize ralinepeg, which targets pulmonary arterial hypertension, or PAH.
But in a Nov. 15 conference call with analysts, Munshi said the company can now aggressively advance other treatments in development. That includes expanding two of its other drugs into additional therapeutic areas. The first drug: etrasimod, heading into late-stage testing for ulcerative colitis. The second: olorinab, moving into phase 2 testing for pain connected to inflammatory bowel disease.
"It allows us to go deeper into some of these therapeutic areas with etrasimod. On olorinab it allows us to begin to think about more than one indication," Munshi said.
Munshi also said the funds would balance a portfolio heavy on late-stage drugs. It's costly to build a sales force and finish drug development, often leading San Diego biotechs to partner with larger pharmaceuticals.
"In the spirit of you can do anything but you can't do everything, we had to make some decisions about where we wanted to play. And that included the geographic footprint as well as the portfolio," Munshi said.

While handing off ralinepag, Munshi said the company is committed to flying solo in commercializing etrasimod.
"We have the resources and the structure to get there."

Arena leadership said United Pharmaceuticals' experience in PAH made the company an ideal partner. The rare disease is caused by high blood pressure in the arteries connecting the heart to the lungs.

Shares of Arena jumped nearly 22 percent on Nov. 15 with the announcement.
Munshi has led a comeback at Arena, after its weight-loss drug flopped. The company in recent years has rebooted shelved autoimmune drugs.