OncoSec's Korean Ties Draw Attention in U.S. and S. Korea
Wednesday, November 14, 2018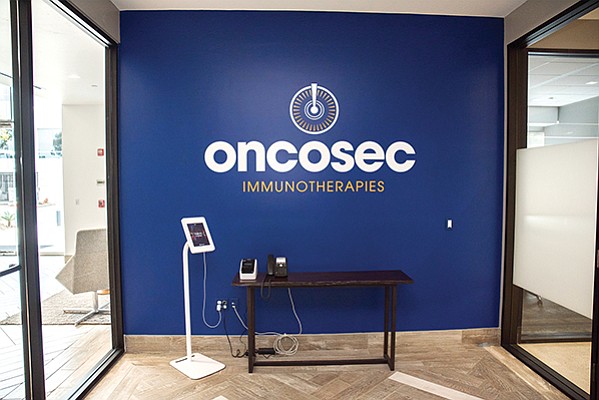 Japan sticks out as San Diego biotech's most valuable international trading partner. Elsewhere in Asia, regional biotechs like Tocagen are gaining a foothold in China through partnerships with Chinese firms.
But South Korea? Locally, the country is far from a mainstay of international partnerships, but flickerings of Korea's fledgling biotech scene can be seen here.
OncoSec Medical — based in New Jersey but with four-fifths of its 38 employees in San Diego — recently announced a $15 million investment from Korean company Alpha Holdings. On Nov. 1, Korean reporters converged on OncoSec's San Diego office for a demonstration of its technology.
Given the novelty of a Korean company investing locally, the leadership of OncoSec is fielding a number of questions from other U.S. biotechs.
"People are asking us, 'How did that happen? How did they come to fruition? What does that look like?' " said Sara Bonstein, OncoSec's chief financial officer and chief operating officer.
OncoSec CEO Daniel O'Connor said not only is Alpha Holdings an investor, but also a partner that fits in with OncoSec's strategy to strengthen its presence in South Korea and Asia.
OncoSec is developing immune therapies for cancer, including a Phase 2b program called ImmunoPulse IL-12. Pharmaceutical giant Merck has partnered on clinical testing.
Alpha Holdings' $15 million investment will give the company a 14 percent to 16 percent stake in OncoSec by December. Alpha is known for designing, developing and manufacturing semiconductors, but has sought to expand into biotech.
"OncoSec has strong technology and business strategy, and we also were impressed with the leadership and management capabilities of the company's founder and top management," Alpha Holdings said in a statement.
Asked why Korean media was invited to the Nov. 1 event, Alpha Holdings noted Korean biotech is drawing greater attention. In addition, the company stated this marks the first company on Kosdaq — the Korean equivalent of Nasdaq — to make a direct investment in a Nasdaq-listed biotech.
"Korea's bio industry is rapidly growing and, to further promote the country's bio industry, the Korean government has been substantially increasing its budget for the industry in recent years. In the past few years, the country also saw its major biopharmaceutical companies successfully develop new drugs or out-license their technologies," Alpha Holdings said.
This isn't the first San Diego-Korea connection in biotech, though such partnerships appear to be rare. A notable one: In 2016, San Diego drugmaker Sorrento Therapeutics launched a joint venture with South Korea's CHA Biotech to develop an anti-cancer therapy.
In an email, San Diego life sciences trade group Biocom stated Korean company Yuhan Pharma has looked to establish a presence in San Diego. Biocom wasn't aware of much else on this front, though.