Study Shows Need to 'Unlock Economic Potential' of Workers
Sunday, November 11, 2018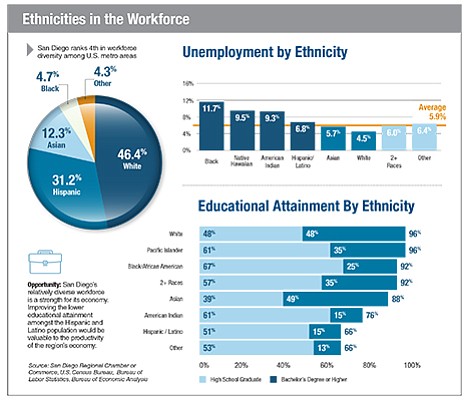 San Diego has untapped potential to contribute to the local economy among millennials, veterans, women and minorities, a recent analysis produced by the San Diego Regional Chamber Foundation has found.
The findings, released in late October, were contained in an annual update of the chamber's Regional Jobs Strategy Dashboard, initially completed in 2016. The study compares San Diego with nine other metro areas across the country, including Austin, Denver, San Jose, San Francisco, Boston, Portland, Raleigh, Seattle and Los Angeles.
Job Creation
"The goal of this whole regional job strategy is to direct the attention of the business and civic communities to the issues that matter most for job creation," said Sean Karafin, vice president of policy and economic research at the chamber.
Over the past several years, millennials have overtaken baby boomers as the largest segment of San Diego's workforce, at nearly 40 percent, said Karafin. For purposes of the study, millennials were defined as having birthdays between 1981 and 1996.
Nationally, millennials are a diverse generation, and highly educated, although that trend is less pronounced in California, due to a lower level of educational attainment in the state by Hispanics, Karafin said.
"The opportunity is that millennials are very purpose-driven. Millennials want to give back to their community through their work," Karafin said. Therefore, the study suggests companies adapt their practices to achieve a purpose-driven culture.
Veterans in the Workforce
The study found that San Diego has the highest number of veterans in its workforce, at 6.2 percent, of any of the ten metro areas studied, said Karafin. However, based on U.S. Census Bureau numbers from 2017, San Diego did not have the lowest unemployment rate for veterans. That distinction went to Austin, with a 3 percent unemployment rate for veterans, compared with 4.5 percent for San Diego.
"That means we can do better," Karafin said.
San Diego ranked second-lowest among the 10 metro areas for percentage of women in the workforce, at 44.8 percent, compared with the leader, Boston, with 48.8 percent. San Diego also had the highest rate of unemployment for women, at 5.4 percent, in spite of the fact that a higher percentage of women have college degrees than do men.
"These gaps should be seen as an underutilization of existing talent, and an opportunity to unlock economic potential in our region," the study noted.
Educational Attainment Gap
The study found San Diego ranks 4th among the 10 metro areas in terms of workforce diversity, and that the educational attainment gap between whites, Hispanics and other minorities represents another opportunity for expanding San Diego's workforce. For example, the study found that 15 percent of San Diego's Hispanic population had a bachelor's degree or higher, compared with 48 percent for whites.
"Improving the lower educational attainment among the Hispanic and Latino population would be incredibly valuable to the productivity of our region's economy," the study said.
To see the full updated jobs dashboard, log on to https://sdchamber.org/wp-content/uploads/2018/10/Job-Strategy-Updates-2018-1.pdf