DEFENSE: STUDY FORECASTS ADDITIONAL 3.7% GROWTH IN FISCAL 2019
Military Economic Impact in County Estimated to Be $50 Billion
Sunday, November 11, 2018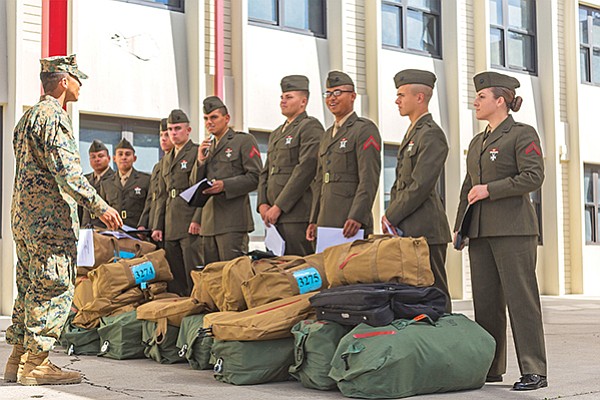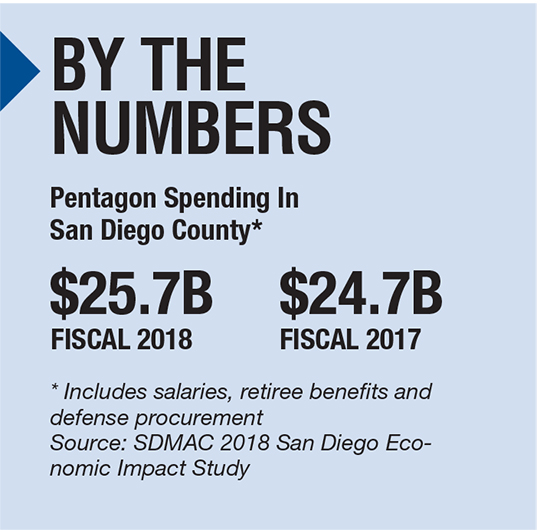 Sailors and Marines. Ships, aircraft and military machinery. That is San Diego, yesterday and today.
What is different is that the military's spending has reached $25.7 billion, having grown 4 percent over last year. That estimate for fiscal 2018 is how much the U.S. Department of Defense sent to San Diego in the form of salaries and compensation, retiree benefits, procurement and several smaller outlays.
The San Diego Military Advisory Council released the research Nov. 8 as part of its "2018 San Diego Military Economic Impact Study." Economists at Point Loma Nazarene University put the study together.
It is a far cry from 2008 — the year that SDMAC examined in its inaugural study a decade ago. That document estimated the Pentagon's direct spending in the region amounted to $15.5 billion.
Ripple effects — that is, money turning over in the community — make the Pentagon's impact even larger. The new study estimates that the military made a $50 billion splash in the San Diego County economy in fiscal 2018, which ended in September. That is slightly less than one-quarter of the gross regional product, or 22 percent.
340,000 Jobs
The military sector was responsible for roughly 340,000 jobs in the county when ripple effects are taken into account, study authors said. With that logic, 22 percent of local jobs can be traced back to military spending.
More growth is ahead. The study predicts additional 3.7 percent increase in fiscal 2019, forecasting the Defense Department will spend $26.7 billion. It will be the largest influx of defense dollars in the region's history, study authors said.
There is a "great symbiotic relationship" between the San Diego region and the military, wrote Mark Balmert, the council's president, in an introduction to the study. The council, also called SDMAC, brings civic, business and military leaders together to discuss issues of concern. At times it is a conduit for the military to let civic leaders know its needs and desires. Defense contractors, other businesses and local government entities fund the annual study.
Procurement, Pay and Pensions
Procurement — the Pentagon buying goods and services — in San Diego stood at $9.4 billion in 2018, up from $9.1 billion the previous year. Study authors expect procurement to grow nearly 5 percent to $9.8 billion in 2019. Businesses receiving large defense contracts in San Diego County include privately held General Atomics, the NASSCO unit of General Dynamics (NYSE: GD), Northrop Grumman Corp. (NYSE: NOC), BAE Systems and Viasat Inc. (Nasdaq: VSAT).
$5B in Pensions and Other Benefits
Pay for uniformed and civilian employees of the military services amounted to $11.1 billion in fiscal 2018. Some $5 billion was spent that year on pensions and other benefits for 241,000 retirees and veterans.
San Diego Bay is one of two centers for the military in the region. The other is Oceanside, home of the sprawling U.S. Marine Corps base at Camp Pendleton, which employs 37,000 people.
Geopolitical issues are one thing that is driving more spending to the region. With China's ascension as an international power, and the growing importance of the Pacific Rim, the U.S. Navy is sending more assets to San Diego. There were 57 Navy ships stationed in San Diego in fiscal 2018. The ships produced direct spending of $2.2 billion and $6.6 billion in ripple effects. San Diego can expect a net increase of five ships for 62 ships in fiscal 2019.
What is ahead? There are two possibilities. The Pentagon "has debated whether to increase the size of its military or to focus on a smaller, but technologically more advanced, force," study authors wrote. Either option will benefit the San Diego economy, though in a different ways. "San Diego could benefit from either strategy by seeing either larger troop counts or higher purchases from the region's innovation cluster."