With Big Assist From Nature, Design Delivers Dream Home
Sunday, November 11, 2018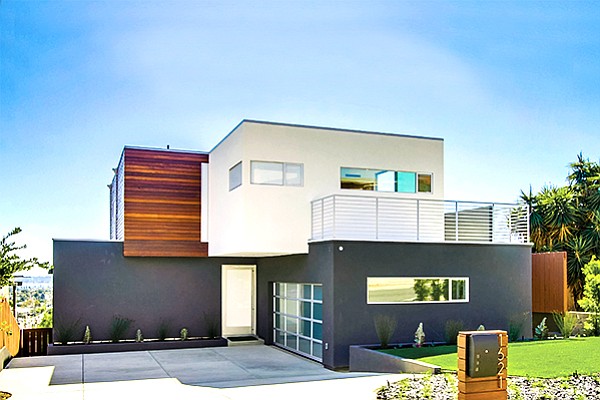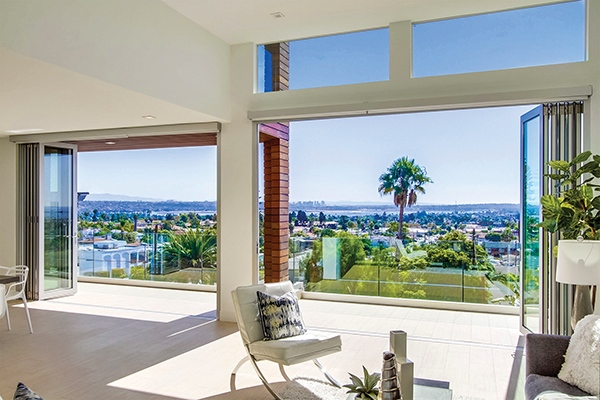 The drive northward up Ingraham Drive from Garnet Avenue in Pacific Beach quickly rises from about 70 feet above sea level to nearly 300 feet above sea level in just under one mile. As Ingraham Drive turns into La Jolla's Foothill Drive, off to the east is a secluded neighborhood of homes with drop dead coastline and bay views.
The home at 1621 Collingwood Drive is less than one third of a mile from Kate Sessions Park and borders southern La Jolla. But, the configuration of the neighborhood discourages drive-through traffic, which is common in many Pacific Beach neighborhoods.
Helen Spear, with Pacific Sotheby's International Realty has the listing on the 3,215-square-foot, newly constructed home. It's listed for $2.995 million to $3.195 million. The never lived in home has four bedrooms, three-and-a-half baths.
"This neighborhood is very quiet coveted location," Spear said. "People usually live there forever."
It was built by DBRD Studio, which are the initials of Pauly De Bartolo and Ivan Rimanic, award-winning San Diego designers who have several notable local projects to their credit.
"This team has been designing together since 2008," Spear said. Both Ivan and Pauly are native Australians who immigrated to San Diego in 2005 after making a name for themselves in Sydney, with a prominent architecture and design firm.
Spear, who has 25 years in real estate specializing in luxury properties in the southern La Jolla, Pacific Beach and Mission Beach areas, said she works with a local builder who has contributed to the upgrading of the outdated properties in those long established neighborhoods.
"This is my fourth project with him, third luxury property." Spears said. "He's amazing."
Spears declined to provide the name of the builder because she hadn't spoken to him about being included.
"When you walk in the front door, you have 300-degree panoramic views, you have 12-foot ceilings, nine-foot glass folding doors," Spear said. "Basically you have a modern feel that's got warmth to it because of the wood accents."
The wood accents Spear is referring to are the wooden slatted deck overhangs and side walls on the exterior patio of the home that become part of the whole space because of the open, floor-to-ceiling windows and folding doors.
The view is gobsmacking. It literally stops you in your tracks.
"You can see from the mountains in the east, Mission Bay, the ocean at sunset and views from every room, every indoor/outdoor space you can find," Spear said.
It's an ultra-modern, three-story home on a 7,000 square foot lot.
The main floor has the kitchen, dining and living room and opens out to a spacious outdoor living area. The light-colored tile floor flows throughout most of the entire home providing a connecting design element to the feel of the interior.

"The floor looks like wood; it looks like an expensive light oak hardwood; it's got kind of a weave to it with a matte finish." Spear said. "It's a warm modern feel that gives it a natural element, although it's tile,"
Floating stairs lead to the top floor to an expansive master en suite with nine-foot bifold doors with the same wooden detail on the outdoor patio.

"You've got your indoor/outdoor living, again with 300 degree views." Spear said.
An additional second bedroom with its own patio is also on this level.
The ground level of the home has two more bedrooms with panoramic views and a large outdoor space. This level also includes another living area, or "California room" as Spear referred to it that is a family room, with a sink, small refrigerator and a bar area, "with the same white glossy cabinetry as in the kitchen and elsewhere." Spear said.

The back part of the 7,000-square-foot lot is flat, rare for most hillside properties, Spear said, and it is left to the buyer to decide if they want a pool or not, "many don't." she said.

"With the backdrop of the blue skies, water, palm trees sprinkled in there, no utility lines or anything," Spear said. "Everything is right there, you see it all, it's all there for you."
Send luxury real estate items to sglidden@sdbj.com.