Pitch Competition Organizers See Money, Momentum Increasing
Thursday, November 8, 2018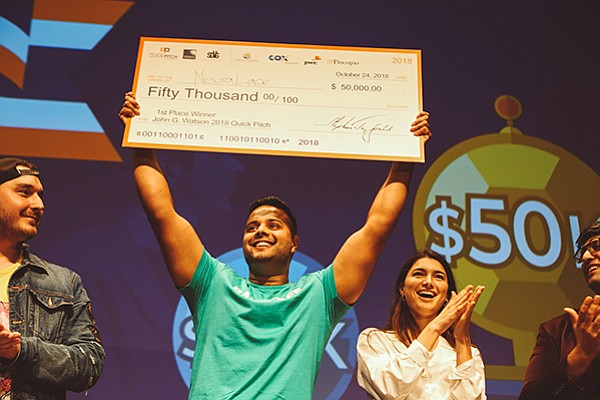 Shukla technically founded NeuraLace in 2016, but he has been working on the underlying technology for years. He came across the idea while researching pain at UC San Diego before applying to medical school.
"We discovered two therapies for really hard chronic pain problems in the first nine months," Shukla said.
Shukla brought a 20-patient randomized controlled study to the FDA when he first sought approval. Although that was enough to begin the process, he also plans to fund an 80-person, multisite clinical trial. To date, he has studied the device's use in more than 150 patients since he first began his research at VA Hospital through UCSD.
Many of the patients who received treatment said they had no option left to treat their pain.
"The ones it worked for, they were in disbelief," he said. "I would go and treat a patient, and their lives would change."
NeuraLace's device, called Axon Therapy, is based on existing brain stimulation technology. Shukla worked for three years to build it. The idea behind it is that nerves continuously send signals to the brain, essentially telling it that everything is OK. The absence of these signals, such as a damaged nerve, can lead to chronic pain. Using a magnetic field to stimulate the damaged nerve, Shukla hopes to "trick" the brain, resulting in pain relief.
So far, the company has raised $850,000 in its initial funding round, led by San Diego based fund FusionX Ventures. Mooring Ventures also contributed to the round.
Next, NeuraLace plans to raise its Series A round, seeking at least $2 million in funding. Shukla said that should be enough to get the company through FDA approval, though more might be needed to manufacture and sell the company's device.
Shukla also hopes to bring on two full-time employees, the company's chief operating officer and chief technology officer, who have been volunteering their efforts.
"I'm grateful for their support," Shukla said
Yembo
Yembo, a startup that developed a software platform for moving, took home a total of $20,000 for its combined second-place prize and for being the audience's top pick. The company plans to use the funds to begin building a sales team to get its product in the hands of as many customers as possible. So far, Yembo is working with two major national van lines.
Its founders, CEO Siddarth Mohan and Chief Technology Officer Zach Rattner, both worked on a robotics team at Qualcomm Inc. before starting the company.