DEFENSE: KNOWING INSIDE MACHINATIONS HELPS IN PLANNING
Business Intelligence Is a Must in Defense Sector
Thursday, November 8, 2018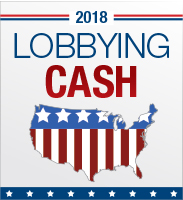 Every year, San Diego defense and aerospace companies spend six-figure sums on lobbyists, who represent their clients before government leaders in Washington, D.C.
In the case of General Atomics, expenses run into the millions of dollars.
Such spending comes on top of contributions to politicians' campaigns.
The Washington-based Center for Responsive Politics collects data from the federal government and publishes figures on both lobbying expenses and campaign contributions. Its website is called Open Secrets.
The lobbying numbers pertain to amounts spent pleading one's case before members of Congress, their staffs and members of the executive branch.
Major defense contractors "always do extensive lobbying in D.C. because their bottom line is so strongly influenced by decisions made there, in Congress and the executive," said Gary Jacobson, professor emeritus of political science at UC San Diego.
Defense contractors want to know what the customer wants, and want to keep tabs on the "millions of things" the federal government is up to, Jacobson said.
Lobbying is also defensive. If competitors lobby, "you're going to lose out" if your company does not, the professor said.
General Atomics, which splits its business between defense contracting and energy, spent $4.78 million on lobbyists in 2017, the last full year for which numbers are available. Lobbying amounts have risen steadily every year since 2010, when GA spent slightly more than $2 million.
General Atomics has a variety of federal contracts. Its Aeronautical System affiliate makes the Predator family of remotely piloted aircraft. Its Electromagnetic Systems business is developing and building a new class of aircraft launch and recovery equipment for the new Gerald Ford-class aircraft carrier, among other pursuits. General Atomics also does research and development in nuclear power.
In 2018, the business has lobbied for 21 bills, including appropriations bills for the Defense Department and other federal agencies.
GA is not alone in spending on lobbyists.
Cubic Corp. spent $737,000 in 2017, up slightly from $730,000 in 2016. The amounts are the highest in the last 10 years, though annual spending during that period has stayed above $500,000. It is too early to tell whether 2018 lobbying expenses will surpass $500,000.
Cubic (NYSE: CUB) complements its defense contracting business with work for mass-transit providers and government transportation departments. It recently sold its defense services business.
Viasat Inc., which serves the defense industry as well as commercial and consumer clients, has increased spending dramatically since 2009, when the company spent $10,000 on lobbying. In 2017, Viasat spent $690,000 on lobbying services, marking a peak for the last 10 years. Spending for the current year was $650,000 as of October.
Viasat (Nasdaq: VSAT) has grabbed headlines for launching its own high-capacity satellites. It also offers secure communications and cybersecurity for members of the military. Viasat's satellite Wi-Fi serves VIPs aboard federal government jets, and serves passengers on commercial flights.
Lobbying expenses for Kratos Defense and Security Solutions Inc. grew from $30,000 in 2013, peaked at $330,000 in 2016 and fell to $290,000 in 2017. Kratos (Nasdaq: KTOS) produces defense electronics. It is expanding its target drone business to include drones that can fly in combat.
Campaign Contributions
San Diego aerospace and defense companies also make campaign contributions.
Donating money to a campaign will not guarantee you get what you want, but it can get you access to politicians, Jacobson said.
Individuals and organizations associated with General Atomics contributed $696,500 to candidates in the 2018 election cycle. They included $33,000 in contributions to Sen. Mark Warner (D-Virginia) and $25,000 to Sen. Dianne Feinstein (D-California). Rep. Duncan D. Hunter (R-El Cajon) received $10,250 while Rep. Susan Davis (D-San Diego) received $10,000.
GA also contributes smaller amounts, and miniscule amounts. Five politicians received $1 apiece.
During the 2018 election cycle, GA affiliates gave $232,000 to leadership PACs (political action committees), $329,000 to political parties and $101,000 to outside spending groups.
Organizations and individuals associated with Cubic Corp. also made campaign contributions. Hunter was the largest individual recipient, with $11,000 received during the 2018 cycle. In all, Cubic gave $195,000 to candidates, $17,500 to leadership PACs and $83,000 to political parties.
Individuals and organizations affiliated with Viasat gave $5,950 to candidates, $1,000 to political parties and $250 to outside groups during the 2018 election cycle. Rep. Darrell Issa (R-Vista) received the largest individual donation of $2,800.
Companies also wine and dine legislators. According to the politics blog Politico, Kratos Defense hosts an annual congressional reception.
A partial guest list from a late April get-together at the Rayburn House Office Building appeared in the Politico Influence Newsletter dated April 27. Kratos CEO Eric DeMarco hosted a bipartisan group of legislators from all over the United States. Representing California were Hunter as well as Rep. John Garamendi, a Democrat.