Kratos Earns $1.7M on Revenue of $159M
Tuesday, November 6, 2018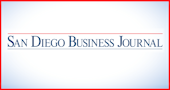 Kratos Defense and Security Solutions Inc. reported net income of $1.7 million, or 2 cents per share, on total revenues of $159.4 million in the third quarter. In the same quarter one year ago, Kratos (Nasdaq: KTOS) reported a net loss of $4.3 million, or a nickel a share, on total revenues of $157.1 million. The business released its earnings on Nov. 6.
For the nine-month period, Kratos reported a net loss of $8.2 million, or 8 cents per share, on total revenues of $453.6 million. In the first nine months of 2017, Kratos reported a higher net loss of $20.5 million (20 cents per share) on lower total revenues of $437 million.
In a statement, CEO Eric DeMarco said he expects the company's unmanned systems business to have "a particularly strong finish to 2018." The business, based in Scripps Ranch, also makes electronics for defense and satellite communications.
The company's backlog stood at $571.7 million on Sept. 30, up from $501.9 million on July 1.
The corporation said it is adjusting its full year revenue guidance slightly downward to the range of $635 million to $645 million. In August, Kratos predicted full year revenue of $640 million to $650 million.