HEALTH: AIM IS TO RELY LESS ON NIH AND MORE ON ITS PROGRAMS
Fiscal Policy Now On Front Burner at Scripps
Monday, November 5, 2018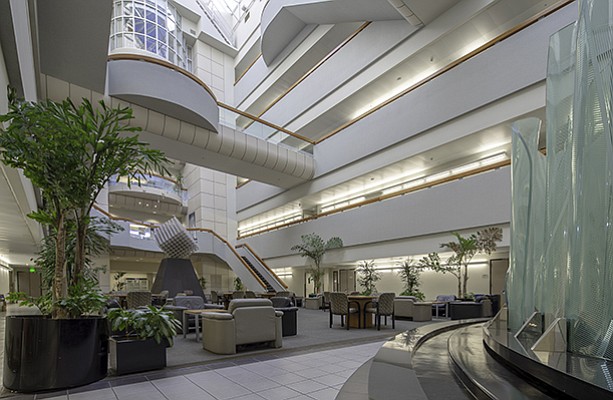 Scripps Research's latest annual statement shows a higher operating deficit than years past, but management predicted stronger financials amid a shift in direction.
While the drug research institute is acclaimed in hatching groundbreaking treatments, financial challenges are evident. Scripps posted a $25.5 million loss in fiscal year 2017, a $16 million loss in 2016 and $20.4 million loss the prior year, according to financial statements. Fitch Ratings last December said Scripps has a healthy financial profile but downgraded its credit rating to A from A+ on account of possible revenue volatility. The report also noted endowment draws to offset operating losses.
Scripps officials say finances are bound to improve given Scripps' pipeline. It includes potential treatments for osteoarthritis, Parkinson's and other diseases, along with a research platform recently licensed by a large pharmaceutical.
They also touted a new way of doing business, intended to rely less on federal funding that's long been the lifeblood of research institutions. Scripps too has sought to bolster private fundraising, noted by bonds analysts as an area of competitive weakness.
'Turned the Corner'
"I would say we've very much turned the corner," said CEO Peter Schultz, who was appointed in 2015. He's also the CEO of Calibr, an arm of Scripps Research that aims to rapidly translate basic discoveries into treatments, central to plans to improve finances.
Also key: pushing its potential treatments further into development before partnering.
Often research institutes stick to basic research and then relay development and commercialization of potential treatments to big pharma, which has been less generous with preclinical licensing terms than a decade ago.
Taking Drugs Further
In response, Scripps is taking drugs into human testing, counting on pharmaceuticals paying more for drugs with promising early results. Later-stage clinical trials — which are more costly — would then be up to the pharmaceutical.
Calibr this year started clinical trials of an osteoarthritis drug that looks to regrow cartilage, testing traditionally done by biotechs and large pharmaceuticals. Other Scripps drug candidates are following suit.

Greater licensing proceeds would be reinvested in fundamental research, and so Scripps wouldn't be so beholden to funding from National Institutes of Health, NIH. That's the plan, at least. About 73 percent of Scripps' $340.8 million in revenue last year came from government grants.
"If we move two drugs into the clinic every year, and then partner those, that could be an incredible revenue source that academic institutions have never realized," Schultz said.
To move into the clinic, Scripps had to build up its translational research capabilities — that is, fast-tracking early biomedical research into clinical development. Schultz leveraged past experience in this area. He founded the Genomics Institute of the Novartis Research Foundation in 1999 and was director until 2010. Two years later, he founded Calibr.
Schultz also brings an academic track record, which he said is important to academic scientists wary of pharmaceuticals' top-down culture.
"If I had come straight from Merck without a strong academic background people would wonder what your motivations are and where your loyalties lie scientifically," he said.
Scripps ended fiscal year 2017 with $632.1 million in net assets.
George Stimola, a credit analyst at Fitch Rating, said Scripps in recent years pulled back from capital expansions and onerous operating leases. That's as the research institute sought to control costs.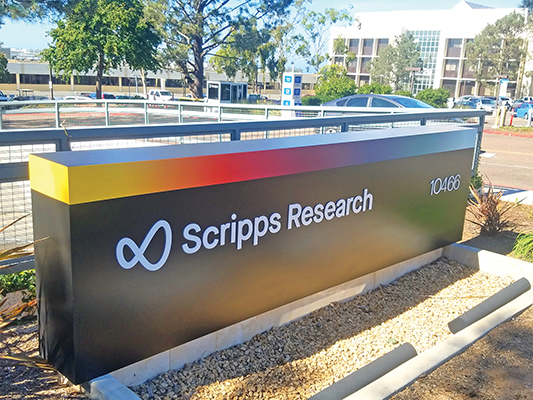 The Risk of NIH Funding
Overall, Fitch said Scripps is in a healthy financial position, but being so reliant on NIH funding represents a degree of risk.
"That funding mechanism is always open to political considerations," Stimola said.
Jared Machado, Scripps' chief financial officer, said Scripps' $25.5 million loss in fiscal year 2017 doesn't factor in net unrealized gains of $20.6 million. But he acknowledged Scripps has work to do. Just don't expect dramatic moves.
"We don't have any formal plans or need for any sort of mass layoffs or anything dramatic. But we consistently need to alter operations," Machado said, pointing to tweaking leases as an example.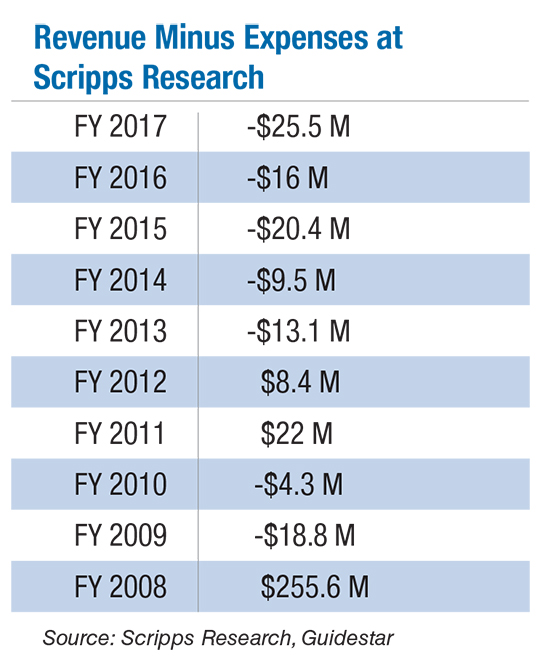 Ranked No. 1
Whatever financial challenges face Scripps, the journal Nature last year ranked Scripps Research No. 1 globally among research institutions. Scripps-originated drugs include Humira for rheumatoid arthritis and Ozanimod, a drug soon expected to gain approval for multiple sclerosis, which could bring a royalty windfall to Scripps.
Helping finances as well: a deal this summer with pharmaceutical AbbVie.
Calibr granted AbbVie access to a platform that harnesses a cancer patient's immune system to attack cancer cells, in exchange for an upfront fee, and potentially milestone payments and royalties. Terms were not disclosed, but it's subject to the Hart-Scott-Rodino Antitrust Improvements Act, which covers certain transactions of at least $84.4 million.
Machado said the deal was an example of moving technology further into the pipeline.
"That's kind of our first win, per se, in the translational model," he said.
The AbbVie revenue wasn't recorded in Scripps' latest 990. The San Diego Business Journal obtained a copy of the financial document in October, after an email request to Scripps in July. In October, the Business Journal noted to Scripps that per Internal Revenue Service rules, 990s must be provided within 30 days of a written request.
Scripps' finances have been a hot topic in recent years, including brief talks in 2014 of merging with the University of Southern California in Los Angeles. Past Scripps leadership initially saw financial upside, but its researchers revolted, according to media reports.
Behind Its Peers in Fundraising
Diane Viacava with Moody's said Scripps has lagged behind its peers in fundraising, notably that of San Diego's Sanford Burnham Prebys Medical Discovery Institute, which Moody's in October upgraded to an A1 rating. Moody's report stated, "Large gifts have built considerable balance sheet strength as SBP has been able to invest in strategic initiatives without the use of additional debt."
Scripps recently upped philanthropic efforts on several fronts, according to institute officials. Schultz referenced a fund for internal clinical trials, bankrolled by foundations, donors and other sources, with more details due soon.
A Board of Overseers
As the organization broadens its scope, Scripps also added a 21-member board of overseers with big names from across San Diego biotech. Among them: Ionis CEO Stanley Crooke, Molecular Stethoscope CEO Tina Nova, Dexcom CEO Kevin Sayer and Biocom CEO Joe Panetta.
The nonprofit's board of directors is still intact, but the board of overseers brings expertise in growth areas.
Schultz talked about Scripps' plans from his office overlooking Torrey Pines golf course, shrouded during a recent morning fog. The question is: Will Scripps have a brighter fiscal future?