DEVELOPMENT: PERSISTENCE IS SET TO PAY OFF AS PACIFIC GATEWAY READIES TO BREAK GROUND ON MASSIVE PROJECT
Transforming The Waterfront
Sunday, May 27, 2018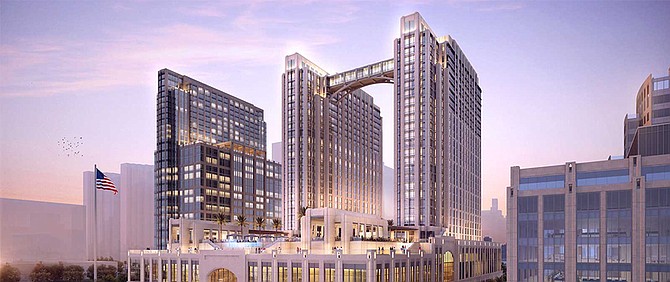 San Diego — On June 1 it begins — the $1.5 billion transformation of a 12 acre-chunk of the downtown San Diego waterfront that's been 12-years in the making.
With a flurry of lawsuits resolved and financing arranged just this month, developer Doug Manchester will break ground for the construction of what he's called Manchester Pacific Gateway — a massive project bound by Broadway, Pacific Highway and Harbor Drive.
The project will include office towers, hotels, a new headquarters building for the U.S. Navy, retail space, and a 3,000-space underground parking garage.
More than four acres will be dedicated open space, including a 1.9-acre plaza.
"It will be a huge construction project but exciting and it will transform the waterfront and downtown San Diego," said Perry Dealy, the project development manager.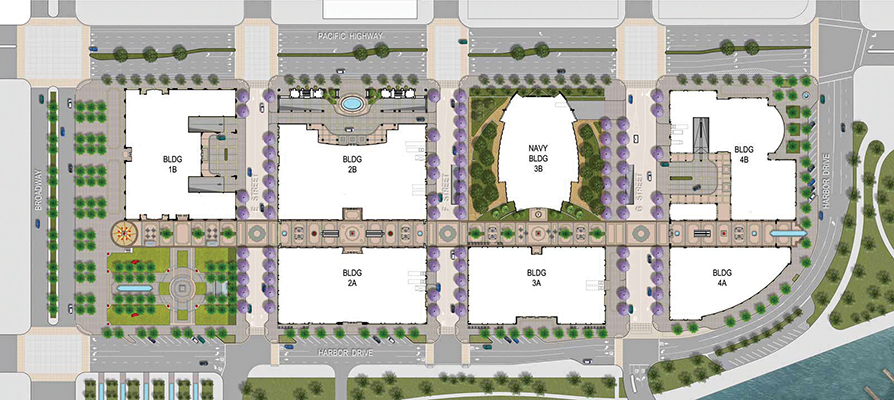 Construction on all elements will begin at the same time with the June 1 groundbreaking in part to cause the least amount of disruption around the site and because it's more cost effective to do it all at once, Dealy said.
"We'll work with the downtown business community and the Port (of San Diego) tenants and special events and the (U.S.S.) Midway (Museum) to coordinate our operations so it doesn't impact these other events," Dealy said.
Completion Mid-2021
Completion dates will be staggered, with everything finished by mid-2021.
"The time has finally arrived for construction of a world-class venue for downtown San Diego," Manchester said in a prepared statement. "We are ready now to recruit the best talent, businesses, retail and hospitality to San Diego and to positively impact our economic growth and create new jobs."
Gensler's San Diego is the lead architect on the project, with the firm's Los Angeles office pitching in as needed, Dealy said.
The Funding
Financing had been up in the air, until this month, when Manchester opted to fund it with the help of outside equity partners, who have not been identified.
Dealy said they would include Fortune 500 companies and pension funds.
Manchester Financial Group, the entity building the project, had initially considered getting construction loans, but Dealy said going with private equity gives a higher return on investment, allows the project to be built all at once and gives Manchester Financial more control over the project.
"It made more sense for us," Dealy said. "We had a term sheet for a construction loan, but it was very expensive."
Manchester, a former publisher of The San Diego Union-Tribune, was awarded a 99-year lease on the bulk of the project in 2006 in exchange for constructing a $165 million, 17-story building on Pacific Highway between F and G streets as the new regional headquarters for the U.S. Navy.
Clearing Legal Hurdles
The project was stalled by several lawsuits.
Dealy said Manchester spent more than $50 million on lawsuits, getting required permits and other work to get it this far.
"He could have backed out 20 or 30 times," Dealy said. "At the end of the day, it's going to be a phenomenal project and it's going to be successful."
Included in the project are a 29-story, 524,000 square-foot office tower with 93,000 square feet of retail space and a 180,000-square-foot boutique hotel with 260 rooms; a second 29-story tower with a 1.1 million-square-foot convention center hotel with 1,100 rooms and 70,000 square feet of retail space; and an eight-story 178,000 square-foot office building with 81,000 square-feet of retail space.
Initially, Manchester Financial will operate the hotels, although someone else might ultimately take them over.
"It gives us flexibility," Dealy said.
Tenant Interest
The project has drawn widespread interest from prospective tenants, Dealy said, but none have been signed.
"Now that we have a firm start date and a firm finish date, we are aggressively re-engaging all of those tenants that have expressed an interest," Dealy said.
Other projects Manchester has built include the Marriott Marquis San Diego Marina, the Fairmont Grand Del Mar, Manchester Grand Hyatt and Columbia Center office building.