BIOTECH: FROM CANCER TO CONCUSSIONS, EFFORTS CHANGE COST, COURSE OF TREATMENTS
Local Cos. Find Rich Vein to Tap in Blood Diagnostics
Thursday, May 24, 2018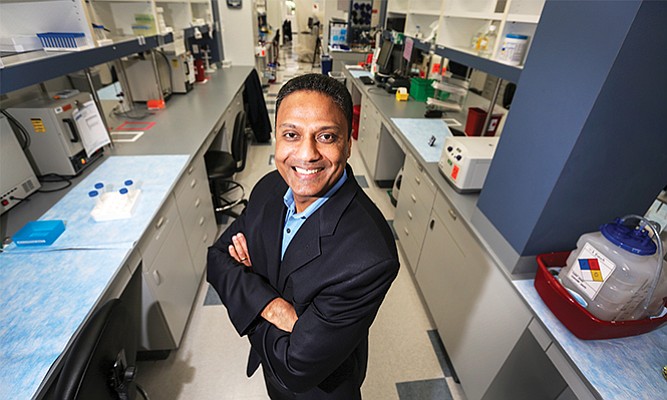 San Diego — Banyan Biomarkers hit a milestone in February when its blood test for traumatic brain injuries won U.S. Food and Drug Administration approval.
Banyan stands atop a list of San Diego blood diagnostics companies recently making waves. Others include Epic Sciences and Biocept.
For Banyan, its first-of-its-kind test is expected to reduce the number of CT scans ordered for patients with a possible concussion. More than 90 percent of patients showing up at an emergency department with mild concussion symptoms receive a negative CT scan.
The technology, first discovered in Florida, found a home in San Diego.
"There is a deep and broad pool in diagnostics. And that's why we're here. I don't think there's another city with the diagnostic talent and expertise that San Diego has," said Henry L. Nordhoff, chairman and CEO of Banyan.
The test, called the Brain Trauma Indicator, identifies two brain-specific biomarkers that rapidly appear in the blood after a brain injury, ruling out unnecessary imaging.

Without an approved biomarker to guide treatment, the default for physicians has been to obtain a CT scan, which can run as much as $1,400. Banyan anticipates its test will be $100. Another selling point is avoiding exposure to radiation.
The company has received about $100 million from the Department of Defense, which has sought a diagnostic that can quickly evaluate injured soldiers.
"They're very concerned about the improvised explosive devices and TBI (traumatic brain injury) and proper diagnosis," Nordhoff said. "So they wanted something that is objective, not subjective. And that's what we have."
Banyan has 22 employees. Nordhoff declined to provide annual revenue figures, but said a ramp up is in order.

He said Banyan will sell the test to the DOD in the second half of this year, and by 2020 it's planned for emergency departments, ambulances and more commercial applications. Tests results are available within four hours, but Banyan is working on lessening the turnaround to an hour.
The FDA's speedy approval — review took less than six months — came amid a clamoring to simplify concussion diagnosis.
"A blood-testing option for the evaluation of mTBI/concussion not only provides health care professionals with a new tool, but also sets the stage for a more modernized standard of care for testing of suspected cases," said FDA Commissioner Scott Gottlieb, in a February statement.
Epic Sciences' test for advanced prostate cancer can tell a patient which therapy works and which will not, informing treatment decisions in real time. A draft decision in late March recommended Medicare coverage, with a final ruling due mid-year.
"I think it sets an important milestone for the industry," said Murali Prahalad, Epic Sciences' CEO.
This test, OncotypeDx AR-V7 Nucleus Test, was launched in February. Epic has others in the works.
While others in the field have a diagnosis bent, Epic distinguishes itself with predictive tests to track treatment efficacy as a cancer progresses. It does this through detecting rare cell types, among other means.
"We really said, if we're going to be successful, we have to not only build tests that we can clinically show extend life but give docs very simple answers in terms of drug A or drug B," said Prahalad.
Epic, which raised $40 million in a Series D round last year, has 70 employees. The company has its roots in technology developed at The Scripps Research Institute.
Prahalad said what keeps Epic in San Diego is the talent in fields relevant to the company: chemistry, cell biology, computer vision and machine learning.
Another development in the space worth mentioning: In late March, Biocept announced a collaboration with Thermo Fisher, based in Massachusetts with a sizable San Diego presence.
Initially, the companies intend to target the pharmaceutical industry to provide diagnostic testing services for drug development, to support clinical trials and for companion diagnostic initiatives. Deal terms were not disclosed.
Biocept specializes in liquid biopsy tests — a blood sample identifies markers for the treatment of cancer — in instances when taking a piece of a patient's tumor risks complications.
Asked about why San Diego seems to be a hotbed for diagnostics, Joe Panetta, CEO of life sciences trade group Biocom, cited the wealth of talent.
"If you dig down that's why," Panetta said.