Encinitas Jewelry Designer Creates Keepsakes for Royal Wedding
Wednesday, May 23, 2018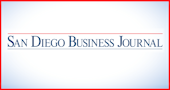 Lisette Polny, an Encinitas-based jewelry designer who owns the company Zofia Day, was tapped by Meghan Markle to create a custom-designed keepsake for the royal wedding bridal party.
Polny, who is a long-time friend of one of Meghan's best friends, Benita Litt, of Los Angeles, has never met Markle, but took inspiration from her love story with Prince Harry for the 14-carat gold bracelet she designed for the six bridesmaids. The piece is called the Kensington bracelet.
As a result, by May 21, the 37-year-old designer had received 490 orders from around the world for a replica of the bracelet, which retails for $450, according to People Magazine.
This isn't Markle's first run with Polny's creations; she actually owned about six of her pieces prior to the wedding, including the "Dash Ear Studs" and a 14-carat diamond-pave ring that retails for $750.
Zofia Day jewelry is sold in about 20 boutique retailers, including Tucci in Solana Beach and Del Mar, as well as the Zofia Day website.