PROPERTY: TOOLS HELP GAUGE INTEREST, SERIOUSNESS
CRE Platform's Depth Makes Deals Happen
Wednesday, May 23, 2018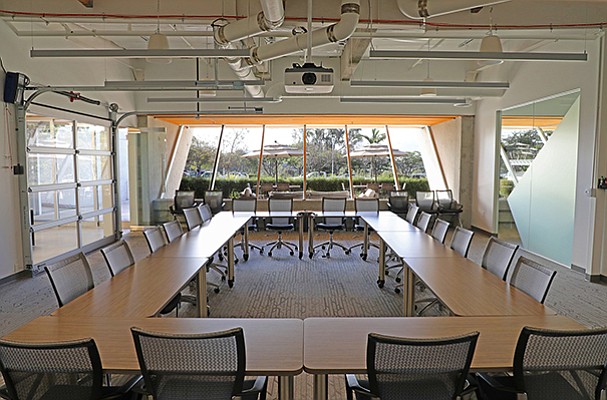 San Diego — Back in 1999 when Real Capital Markets got started, there wasn't much to the company.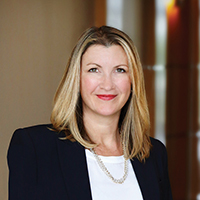 The small Carlsbad startup that promised to open the world of commercial real estate to the technology of internet marketing had but one client — San Diego-based Fairfield Residential — that was selling an apartment complex.
"It was so successful, that Fairfield Residential said, 'great, let's do it again,'" said Tina Lichens, Real Capital Markets (RCM) chief operating officer.
"They've been a client ever since, regardless of what brokerage or broker they're making sure that broker is using our platform," said Lichens, who joined the company in 2001. "From the beginning, we just continued to grow."
In April, the company topped the $2 trillion mark in commercial real estate deals brought to market through its platform over those 19 years.
They include some of the best known buildings in the country — the John Hancock Center in Boston, Willis Tower in Chicago, and the Hotel del Coronado.
CRE Matchmaker
With offices in a 200,000-square-foot building on Carlsbad's Palomar Airport Road across the street from Palomar Airport, RCM is a matchmaker of sorts, bringing buyer, seller and broker together online.
Brokers and sellers can market property, buyers can check for property that matches what they're looking for, and all three can exchange documents securely and separate serious offers from casual searchers.
Investors build and maintain profiles of what they want and sellers use the RCM service to list property.
Brokers can sort through the offers, find those that are most promising based on who has taken a peek on what they're offering and who has downloaded some of the basic information.
More detailed material is posted for investors who sign confidentiality agreements.
Clients pay a flat fee, regardless of the size of the property, Lichens said. She declined to say the amount of the fee.
"I can't tell you how many listings we've sold through them," said Matt Midura, NAI senior director for national accounts.
"Every sale listing we have over $5 million, $5 million to $10 million or above, we've put on RCM's platform," Midura said. "If you're going to sell a substantial asset, you have to use this platform to do it. It's the only way to do it. I think we've been successful through their platform every single time finding qualified buyers."
A Multitasking Platform
Rick Reeder, executive managing director of Cushman & Wakefield in San Diego, said RCM has become "kind of the gold standard" for online marketing of commercial real estate.
"RCM has been doing it for so long and they've got it perfected in such a way that's really meaningful," Reeder said. "What RCM does is, it's an electronic distribution system to reach out to investors not only all over the United States, but all over the world. In addition to that, they have these modules which allow you to run your due diligence electronically, to do periodic distribution of information, to track activity of how many people looked at your opportunity (property)."
When RCM started, the company had only a handful of transactions going at any one time.
"Those first few years, we had a white board we wrote transactions on, and it wasn't a large white board," Lichens said.
As the company grew, the white board grew to an entire wall where transactions were listed, and then to Excel spreadsheets, then to all-digital.
"In the last three to four years, our business exploded even further," Lichens said, to the point where the company has about 10,000 transactions at any one time on its platform.
Partnership Pays Off
Contributing to RCM's growth was a partnership the company formed with CBRE in 2015. CBRE uses RCM's platform on all of its transactions, under the name CBRE Deal Flow, said Natalie Dahl, vice president of CBRE's San Francisco offices.
CBRE clients and brokers can get information by going directly to CBRE's Deal Flow website or going to RCM's website, said Dahl, who was among those representing CBRE in forming the partnership.
"We saw them (RCM) as kind of a leader in the industry, a leader in digital marketing platforms," Dahl said. "We wanted to offer our sales professionals a consistent marketing platform where our sales process would be automated, where we can track our investor's interest — see who's opened emails, who's signed our NDA (non-disclosure agreement)."
Lichens declined to say how many people work at RCM.
"For the number of transactions we do, you'd be shocked at the number of people we have," Lichens said. "We started with just a few people."
As the company expanded from those early days, RCM focused on developing the latest technology rather than increasing the size of its staff.
Even so, Lichens said the company took a hit during the financial crisis.
"We had to lay off a lot of people, nearly half our staff, like all our clients," Lichens said.
Because RCM is a privately held company, Lichens said she couldn't release revenue figures.
Of the more than 60,000 properties that have gone through RCM since 1999, office, multifamily and retail have been the most common, although industrial property is growing.
Among the most common listings, office property is tops, accounting for about 25 percent of RCM's listings, followed by multifamily at about 22 percent, retail about 18 percent and industrial about 12 percent. The rest is a mix.
Industrial Boom
"It's interesting to see how market dynamics change over time," said Steve Shanahan, RCM executive managing director. "Industrial real estate has increased in prominence and popularity with the growing importance of e-commerce related businesses, a trend not likely to subside as sellers look to capitalize on that strong interest."
E-commerce companies are scooping up industrial property for the so-called "last mile" deliveries for quick turnaround for people who order products online.
It took RCM 14 years to reach $1 trillion in transactions, and less than five years to go from $1 trillion to $2 trillion.
At that rate, the company expects to quickly top $3 trillion.
"We're growing, we're growing a lot," Lichens said.