PRODUCTION: CO. TO PURSUE SYSTEM SOLUTIONS, TEAMS WITH SDG&E
Maxwell Makes Big Auto Deal and Moves in Other Markets
Tuesday, May 22, 2018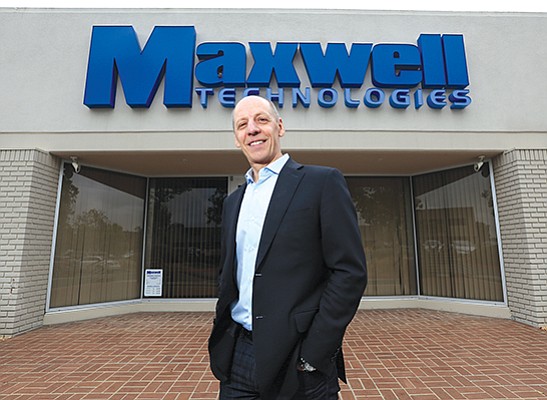 San Diego — It seems San Diego-based Maxwell Technologies Inc., which develops and manufactures ultracapacitor-based energy storage and power delivery solutions, has both hands on the wheel when it comes to providing that technology to the automotive industry.
To date it has provided 6.1 million ultracapacitors for use in the automotive industry, including to such companies as Peugeot, Citroen and Lamborghini. And now it will add Volvo to the mix.
In May, Maxwell (Nasdaq: MXWL) announced it had formed a technology partnership with Zhejiang Geely Holding Group (Geely).
According to Franz Fink, Maxwell's president and CEO, the deal is the "biggest, most significant in the history of Maxwell."
Geely/Volvo
The $100 million deal with Geely, the parent company of Volvo and Geely Auto, is to integrate Maxwell's ultracapacitors into the auto group's mild-hybrid and plug-in hybrid vehicles beginning in 2019.
It also serves as a validation for the company's technology, according to Fink, who joined the business in 2014.
"It validates competence and a knowledge of our team," he said. "So we are in the core architecture for Volvo/Geely, but also, initially in five vehicles slated to launch in late 2019, then ramping in 2020 and beyond with lifetime $100 million, which is very, very significant."
Where the Company Can Grow?
With the majority of its research and development done at the company's San Diego headquarters, Fink said it is now more focused on creating system solutions, not just building ultracapacitor components, but complete integrated modules for all sorts of applications.
He believes that with the Geely/Volvo deal, there is growth in the company's future, including in its workforce and the potential building of a pilot lab for lithium-ion battery type of core electro-technology over the next 12 to 15 months.
Fink said the company will be looking to various partners to help with what he called, "very substantial investment," amounting to $20 million to $40 million over the next few years.
Ultracapacitor Growth
Fink is forecasting the ultracapacitor industry to grow over the next five years by a component growth rate of 20 percent.
Other industry studies are showing similar growth numbers. Stratistics MRC, a market research consulting firm based in Maryland, said the global automotive ultracapacitor market is growing at a compound annual growth rate (CAGR) of 18.6 percent during its forecast period from 2016 to 2023. Grand View Research, in San Francisco, is expecting the ultracapacitor market to reach beyond that, hitting a CAGR of more than 25 percent over the next eight years.
Prev Next