HEALTH: DRUG TREATS SEIZURES; CO. PREPARES FOR COMMERCIALIZATION
Cannabis Medicine Moves Toward Likely FDA OK
Monday, May 21, 2018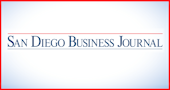 San Diego — A plant-derived cannabis medicine is poised to be the first of its kind to win U.S. Food and Drug Administration approval. A winner of the expected greenlight: Carlsbad's Greenwich Biosciences.
Greenwich, the U.S. subsidiary of United Kingdom-based GW Pharmaceuticals, last year moved into a 21,000-square-foot office space in Carlsbad, quadrupling its footprint. Greenwich supports the commercialization of GW's epidiolex, made from a purified cannabis ingredient called cannabidiol, and is intended to treat seizures in children with rare types of epilepsy.
Last month, an FDA panel unanimously recommended epidiolex approval, a nonbinding vote that's nonetheless widely anticipated to generate an agency greenlight this summer.
Commercialization
Greenwich previously stated it would have 100 employees by later this year, four times last year's number. The company is adding expertise in pharmaceutical sales, marketing and market access.
"We've got quite a sizable footprint here in Carlsbad for the commercialization and medical support of epidiolex," said Steve Schultz, vice president of investor relations at GW.
While most of epidiolex's research and development took place in the United Kingdom, medical and clinical liaisons in Carlsbad played a part in drug advancement.

Epidiolex does not contain THC that makes people stoned, unlike recreational marijuana. Being derived from a plant also separates epidiolex from FDA-approved synthetic cannabinoid drugs on the market.
About 40 percent to 50 percent of epidiolex clinical trial patients saw more than a 50 percent reduction in seizures. Trial participants had tried other medical options.
Schultz said GW's pursuit of epidiolex came independent of the loosening of recreational cannabis laws. But could wider acceptance of marijuana benefit GW and Greenwich?
Jumping Through Extra Hoops
Schultz said perhaps on a macro level, but epidiolex belongs in another category. The drug is eligible for insurance reimbursement, there's no variance from batch to batch and it demonstrated efficacy against a placebo.
"We're creating a medicine that has the hallmarks of a modern medicine," Schultz said.
Yet getting this far required jumping through extra regulatory hoops, given the federal government generally frowns on cannabis. That included obtaining U.S. Drug Enforcement Administration clearance at all clinical trial sites.
"There are very special handling requirements associated with that clearance," Schultz said.
Maxim Jacobs, a biotech analyst at Edison Investment Research, said plant-derived cannabis drugmakers have an easier time locking down funding with the cloud of stigma around marijuana lifting.
"Cannabis, people just thought before, is for hippies, and it's for people who want to go to (Grateful) Dead shows," Maxim said.
With GW leading the way, he said more drugmakers are jumping into the space.
Few Late-Stage Cos.
"There's a lot of early-stage companies, but there's very few late-stage companies," Maxim said.
Not all drugmakers in the cannabinoid space work with plants. San Diego's Renew Biopharma, for instance, synthetically grows cannabinoid molecules in microalgae, with the goal of sparking a new class of pain therapeutics.
Because Renew's process doesn't involve THC or plants, the startup has stated it wouldn't run into obstacles stemming from the federal government classifying marijuana as a "schedule 1" substance — a category reserved for dangerous drugs.
Abide Therapeutics' ABX-1431 has yet another approach: working along cannabinoid receptors in the brain to treat Tourette syndrome.
Plant marijuana activates these receptors, but with challenges like precise dosing. In contrast, Abide Therapeutics' drug selectively targets the cannabinoid receptors, without being derived from cannabinoids and minus the plant's associated effects.

Last November, the drug showed benefits in treating Tourette syndrome in an early-stage trial — specifically, Phase 1b. Abide believes regulating abnormal neurotransmission in this fashion could benefit other neurological conditions.
"If you like, this is an enhanced physiological process to repair the imbalance of circuits that are overactive," said Alan Ezekowitz, Abide's president and CEO.
Abide holds the rights to commercialize the drug worldwide. Previously, pharmaceutical giant Celgene held commercialization rights outside the U.S., but Abide regained the rights, it was announced in March.