EXEMPLARY SERVICE
Top Tech Execs 2018: Worldly Business View Helps Life Science Exec Thrive
Sunday, May 20, 2018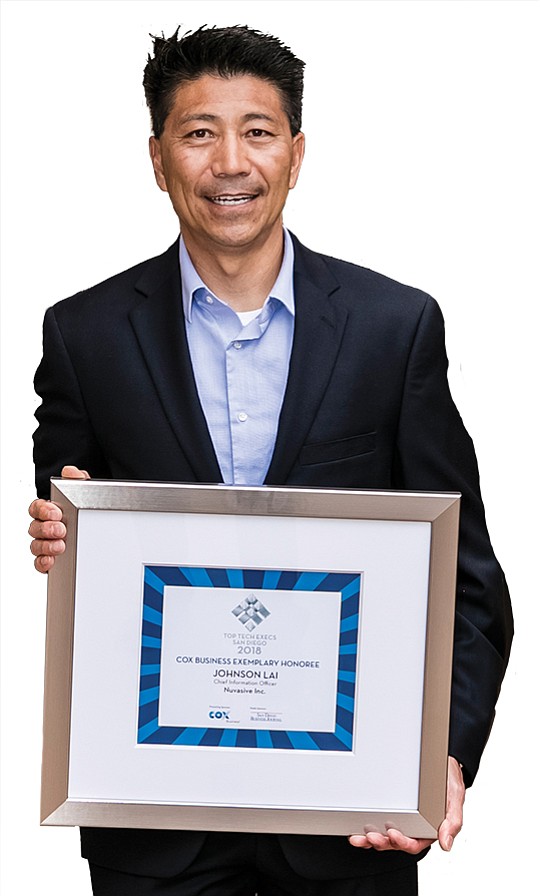 San Diego — Johnson Lai joined Life Technologies in 2006 and helped scale its information systems during its massive growth, which led to its $13.6 billion acquisition in 2014 by Thermo Fisher Scientific.
So it was not a surprise when former Life Technologies CEO Greg Lucier asked Lai to join him at medical device maker NuVasive in August 2015.
NuVasive makes minimally disruptive surgical products and solutions for the spine. In the past three years it has become the third-largest company in the $9 billion global spine market. Lai, their chief information officer, has been honored with the Top Tech Execs 2018 Exemplary Service honor.
As CIO, Lai is a member of the NuVasive executive team that establishes and executes company-level goals and objectives. He is responsible for setting enterprise digital strategy and delivering strategic initiatives along with creating new IT capabilities.
Experience
Lai has extensive global management expertise at Fortune 500 companies Hewlett Packard, AT&T, Abbott Laboratories and Thermo Fisher Scientific. He also has worked at smaller startups; his varied experience enables him to contribute practical as well as innovative thinking.
His many accomplishments at NuVasive include restructuring processes and capabilities to increase the IT department's business responsiveness. Examples include leading revenue and cost savings by integrating commercial/order to cash, supply chain and financial reporting processes and systems and improving sales force effectiveness and surgeon to customer engagement with mobile transaction and CRM technology tools.
Lai addressed long-standing security and business continuity risks by dedicating resources and deploying cost-effective solutions. His department helped deploy a new digital manufacturing system, which helped lower costs.
The Logistics
He also helped optimize the supply chain and improve order fulfillment rates by addressing process gaps and building new capabilities. He deployed scanning and other inventory control methods to increase warehouse efficiency and accuracy while decreasing shipping costs.
Lai has worked with many business functions, having led or supported enterprise level re-engineering and automation efforts in sales and marketing, e-commerce, finance, legal, human resources, manufacturing, and distribution. He also has served as an extended member of the corporate strategy and merger and acquisition and integration teams.
He also has worked in Europe and Asia and at one point was based in Singapore, tasked with capitalizing on a growth opportunity in China and the Pacific region.
Lai holds an undergraduate degree and MBA from the University of California, Davis. During his free time Johnson enjoys extreme endurance cycling, running and restoring classic automobiles.