PRIVATE MICRO
Top Tech Execs 2018: Ryan Rusnak
Sunday, May 20, 2018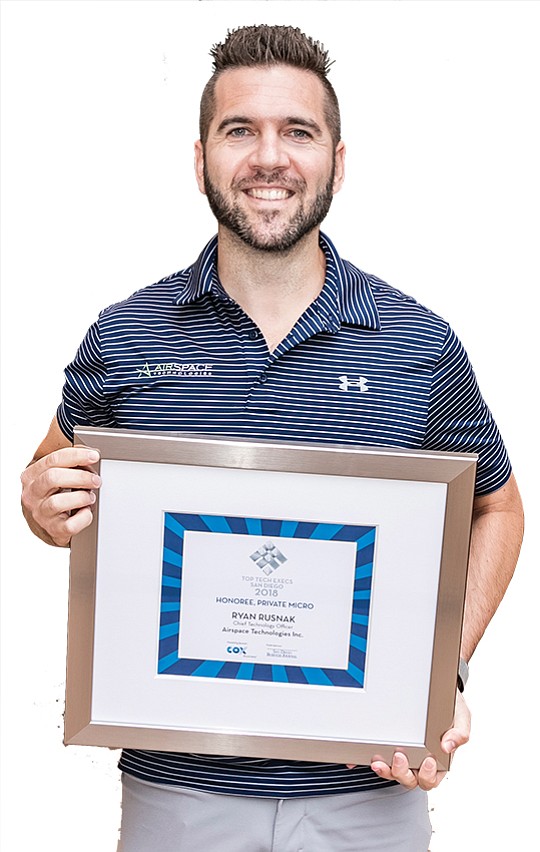 San Diego — Ryan Rusnak co-founded Airspace Technologies in January. As a technology-enabled logistics service provider, Rusnak has guided the organization to integrate technology, people, and services through an automated software platform.
Rusnak has bootstrapped the company and developed the system and team. He developed a technology that has helped merge the antiquated systems of some of America's largest companies such as FedEx and Panalpina. The industry now has full visibility to its most critical shipments, which include organs for transplant, pharma, and lab testing.

Some of Rusnak's successes in 2017 include: geofencing, which allows customers to be informed when the driver is a certain distance from the final drop-off; a mobile application, which allows drivers to easily accept packages and allows customers to see exactly where their package is at all times; and a patented routing algorithm, which takes millions of air and ground options into consideration when determining the fastest route from point A to point B.
Under Rusnak's direction the company has been a finalist for Tech. Co Startup of the year, made the CargoWorld Executives to watch list and been a RocketSpace Logistics Technology Accelerator Cohort III Participant. Rusnak and Airspace have been featured in Inbound Logistics and AirCargo World.