LIFETIME ACHIEVEMENT
Top Tech Execs 2018: Cancer Diagnosis Prompts a Renewed Sense of Priorities
Sunday, May 20, 2018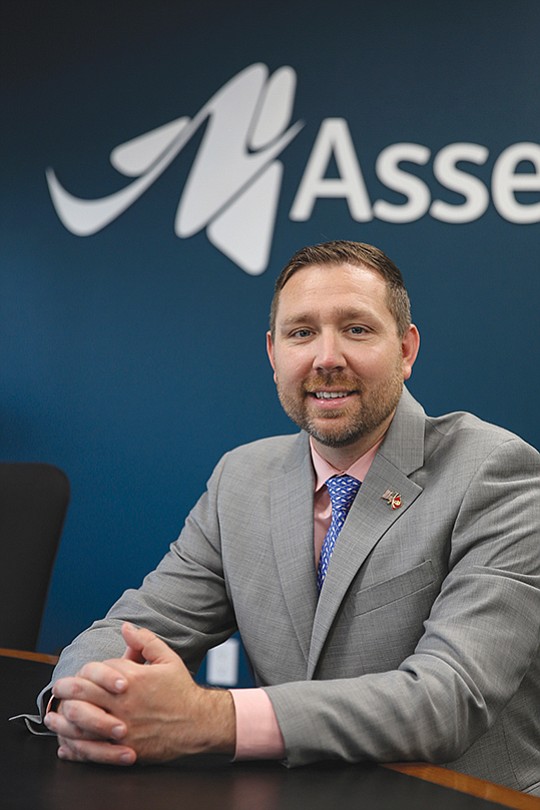 San Diego — In the words of Abraham Lincoln: It's not the years in your life that count, it's the life in your years. At just 39 years old, Marine, husband, father and cancer fighter Casey Cotton is leaving his mark on San Diego's technology field.
For his work, Cotton is the Top Tech Execs San Diego 2018 Lifetime Achievement honoree.
This is not Cotton's first time being honored by the organization. He received recognition in the small or medium company category in 2013, and he was a nominee for an honor last year.
"First and foremost, I think Casey is an icon in the IT community, just in terms of his innovative approaches and his technological expertise," said Larry Coval, West Region vice president for Cox Business — Top Tech Exec's longtime title sponsor.
Awe-Inspiring Man
Beyond that, Cotton is also "a stalwart supporter of the San Diego IT community overall. For many, many years and that's really over and above what he does in his everyday job," Coval said.
That sentiment surrounding Cotton is one echoed by his colleagues at Asset Marketing Systems and Madison Avenue Securities LLC, where Cotton serves as chief technology officer.
According to MAS' president, Martin McNees, the financial advice business relies heavily on technology, but that technology is not usually integrated. Cotton is helping to change that, he said.
"He always tries to develop a vision of his desired outcome and then does everything in his power to make the vision become reality," McNees said. "It doesn't always work, but I admire his tenacity."
Cotton fell into technology while serving four years in the Marine Corps. Cotton said he injured his leg while serving, which required him to be assigned a desk job that just happened to be tech-oriented. He started at the bottom at a help desk and worked his way up, eventually discharging from the Marines after four years and earning a bachelor's degree in business communications from Concordia University Wisconsin.
With Asset Marketing Systems, Cotton helps independent financial advisers with marketing their products to clients. Madison Avenue is the financial broker.
Taking the Right Approach
Of his job, Cotton said, "It's really about architecting a puzzle, which then becomes an art form, not a science," referring to the way products need to be uniquely stacked to meet clients' needs now and in the future.
"You got to plan from the backwards to the front," Cotton said. "It's a tough lesson to learn, especially when you are younger."
Prev Next