San Diego Workforce Partnership Selects KRA Corp. to Operate Career Centers
Sunday, May 20, 2018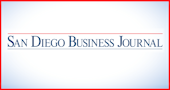 The San Diego Workforce Partnership said May 17 it had decided to put all of its career centers under the operation of KRA Corp.
The change, which consolidates operations to a single provider, is slated to become effective July 1, the organization said.
SDWP's career centers provide training and resources to job seekers in San Diego at no cost.
KRA Corp. has operated career center in San Diego since 2012, the SDWP said.
The organization selected KRA Corp. through a competitive application and bid process.
During the transition, the SDWP said hours of operation at some career centers may vary. Regular hours will resume July 2.
It also announced that the North County Inland Career Center, in Escondido, would close June 22 and reopen at new date and location still to be determined.
Reach reporter Sarah de Crescenzo at sarahd@sdbj.com.