Grant Will Help Open Books and Open Doors for Students
Sunday, May 20, 2018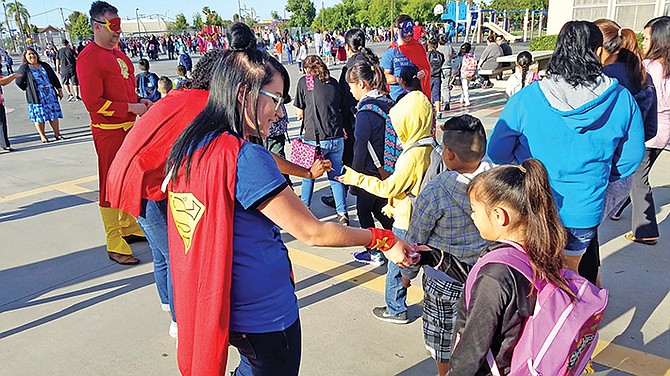 San Diego — United Way of San Diego County received a $100,000 grant from the David C. Copley Foundation and will use it to grow its early grade attendance and literacy pilot initiatives in City Heights and Lemon Grove. The grant will also help United Way share best practices with regional partners for greater reach.
David C. Copley Foundation President and CEO Dean P. Dwyer said: "United Way's early grade literacy work directly relates to our mission of carrying on the Copley family's legacy of giving by funding nonprofit organizations making a difference, including in youth development and education."
The initiatives include "Every Student, Every Day," working to help children who are chronically absent through multiple angles, using bachelor and master's degree level interns, working on-site at the schools to monitor and support students and their families to improve attendance.
"Readers in the Heights" is United Way's literacy summer camp, working with partners to promote active learning for kindergarten through fourth-grade students to help prevent "summer slide" — when kids without access to books over the summer lose literacy gains made during the school year.
United Way of San Diego County interim CEO Bob Beatty said: "With partners like the Copley Foundation, we are able to spark breakthrough community action that elevates every child and family toward a brighter future." Visit uwsd.org.
• • •
Cox Communications Inc. President Pat Esser, based in Atlanta, was in town recently to help open the newly upgraded Cox Technology Center at the Bob Payne Branch of the Boys & Girls Clubs of Greater San Diego in National City. Through the James M. Cox Foundation (named after the company's founder), Cox has provided $150,000 in technology grants to support tech centers at Boys & Girls Clubs nationwide. Esser also updated the audience on the company's Connect2Compete program which provides low-cost computers and internet access at home for students K-12. While young people have access to computers and the internet at school, not all have access at home to help them complete their homework and develop digital skills for the workplace. Since its launch, more than 350,000 people nationwide have benefited from the program.
Esser had observed his own children's nightly use of computers for their homework and realized that kids who don't have internet access would be left behind. This observation inspired him to launch Cox's Connect2Compete in San Diego six years ago as a pilot program. Under Esser's leadership, it has expanded nationwide. Visit: sdyouth.org/baker.
• • •
The Gary Sinise Foundation's Restoring Independence Supporting Empowerment or R.I.S.E. program, held a dedication of a specially adapted smart home built for severely injured USMC SSgt. Brandon Dodson (ret.) in Vista.
At the age of 18, two years after the attacks on Sept. 11, 2001, Dodson followed in his father's footsteps and joined the United States Marine Corps. He served through five combat deployments and achieved many great accomplishments with his platoon all while keeping his fellow Marines' safety as his top priority. Unfortunately, Dodson was severely injured by an improvised explosive device, or IED. After a double-leg amputation above the knee and many surgeries, Dodson spent months at Walter Reed National Military Medical Center recovering.
Under its R.I.S.E. program, the Gary Sinise Foundation is building specially adapted smart homes for our nation's most severely wounded veterans and first responders. We are constructing these one-of-a-kind homes all across the country, for wounded heroes, their caregivers, and their families, according to the organization. With a place to truly call home, they will now be able to move forward with their lives. Visit garysinisefoundation.org.
• • •
Hundreds of supporters gathered at Father Joe's Villages' Children's Charity Gala at the US Grant hotel to honor community leaders who have gone above and beyond to serve those experiencing homelessness. 
Recipient of Father Joe's Villages Award: Franklin Antonio, co-founder of Qualcomm Inc., made possible a public lunch program that serves nutritious meals in a safe, sanitary location every day of the year.
Recipients of Bishop Maher Award: Students from Cathedral Catholic High School and St. Augustine High School have been volunteering to serve meals at Father Joe's Villages at least monthly for seven years and 18 years, respectively. Visit my.neighbor.org.
Recipient of Founder's Award: The Mulvaney Family actively carries on the altruistic legacy of Jim Mulvaney Sr., who worked alongside Father Joe as the first chairman of the board. Visit my.neighbor.org.
Send Kudos/Giving items to
sglidden@sdbj.com.