PHARMA: CO. TRANSFORMS AFTER WEIGHT-LOSS FLOP
Arena Quietly Returns With Promising Autoimmune Trials
Thursday, May 17, 2018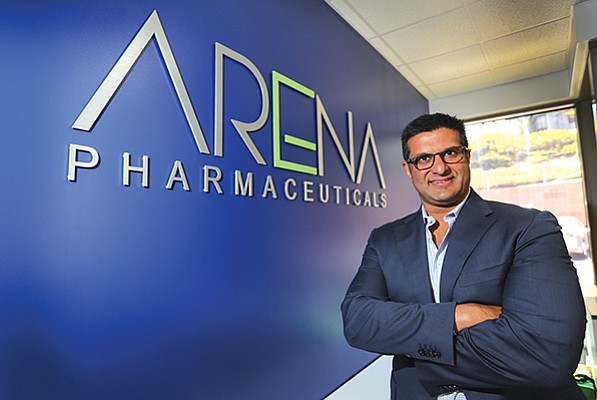 San Diego — Arena Pharmaceuticals' weight-loss drug flopped a few years ago, signaling a bleak future. That is, if you ignored Arena's shelved compounds.
More are paying close attention now.
After fresh leadership came in two years ago, Arena (Nasdaq:ARNA) exited obesity and rebooted autoimmune drugs, triggering a comeback. The company's stock on May 7 traded at $43.12 a share, about triple the bottom more than a year ago.
March saw promising mid-stage clinical trial data for Arena drug etrasimod, which led to patient remission against an inflammatory bowel disease called ulcerative colitis. Etrasimod and another Arena drug are heading toward a final-stage trial, with other promising drugs in the pipeline.
"As crazy as the last 18 to 20 months have been, I think the next 18 to 20 months are going to be equally if not more frenetic with just the growth of the company, key catalysts, key milestones," said CEO Amit Munshi.
Munshi took the reins in 2016 as part of a reorganization. The company's obesity drug belviq, which received U.S. approval in 2012, posted disappointing sales. Further making belviq an albatross, the U.S. Food and Drug Administration stipulated post-approval testing.
"Arena has undergone a clear transformation in a fairly short period of time over the past two years, shifting from a belviq story to one centered on the company's wholly-owned pipeline," said J.P. Morgan analyst Jessica Fye in an April research note.
This evolution owes much to the promise of etrasimod. That said, the drug has competition from ozanimod, touted as a blockbuster drug should it win approval. Ozanimod was first developed by San Diego's Receptos, which New Jersey-based Celgene acquired for $7.2 billion in 2015.
Analysts say Arena's etrasimod seems comparable in ulcerative colitis – and possibly has an edge.
"Overall, we continue to see clear efficacy," Fye said. While bullish on Arena, Fye expects a "multi-year period" before the release of final-stage data.
But given the two drugs' similarity, analysts have recently questioned whether etrasimod could be ensnared in ozanimod's regulatory setback. Celgene received a refusal-to-file letter earlier this year from the FDA over metabolite questions in ozanimod, delaying the drug's launch.
Arena's management has responded by saying no similar issues exist in etrasimod.
"They clearly said it's not a class effect. It's a compound issue," Munshi said. "They made that explicit."
Even with ozanimod's delay, the drug looks to hit the market first. This doesn't faze Munshi.
"I've been in this business 28 years," he said. "It's great to be first. Everybody wants to be first. But it's more important to be better." 
Munshi said the same goes for ralinepag, which targets pulmonary arterial hypertension, or PAH. The rare disease is caused by high blood pressure in the arteries that connect the heart to the lungs.
Per Phase 2 trial results released last year, ralinepag reduced pulmonary vascular pressure by 30 percent versus a placebo, beating investor expectations. The market for PAH, while competitive, is estimated to reach $8.7 billion by 2025, according to Grand View Research.
On the Rebound
Arena posted a net loss of $32 million in first quarter results released May 8. As of March 31, the company held $629.1 million in cash and cash equivalents.
Arena raised close to $383.1 million this year and $240 million last year, the first chunk of which was a tough sell, since promising ralinepag data had yet to be released.
"It was what the investors like to call a 'conviction buy,' " Munshi said.
The company's $2.06 billion market cap reflects anticipation over what's to come.
Both ralinepag and etrasimod are moving into final-stage trials. Beyond them, Arena is working on a painkiller in Phase 2 trials. It's also due to shed light later this year on a mid-stage cardiovascular drug.
"I think it's very fair to say that there's very few, if any, companies in that $2 billion market cap range that we're in that have a breadth of portfolio like we do," Munshi said.
'Basket of Compounds'
Not long ago, Arena faced an uncertain future after belviq sales weren't enough to offset steep development costs.
As a first step in the turnaround, the company in early 2017 sold belviq's rights to Japanese partner, Eisai.
Arena was among a host of companies that failed in the challenging weight-loss market. In San Diego, Orexigen Therapeutics last month struck an agreement to sell its assets for $75 million as part of a bankruptcy.
Although Arena made the major mistake of hitching its wagon to obesity, compounds from 20 years in business awaited.
"What most people didn't fully understand is that while the company was raising over a billion dollars for the obesity franchise, they never turned the spigot off discovery research," Munshi said. "So you had 300 world-class scientists working for close to 18 years on a basket of compounds."
The quality of compounds attracted Munshi to the gig, along with a history of turnarounds, including a stint as a general manager of Amegen Europe.
Prior to Arena, he was the CEO of Massachusetts-based Epirus Biopharmaceuticals.
"The simple idea was to take this large company and rebuild it back into being a biotech company and focus back on the development assets," Munshi said.
Back on the Rise
In July 2016, the company eliminated 100 positions, and further cuts brought its workforce down to 35. Compare that to 2009, when Arena employed 500 people.
Today Arena has 110 employees – and growing. The company hasn't disclosed how many more workers it plans to add, but Munshi talked of a "rapid increase" as it transitions into a late-stage company.
To that end, Munshi said the company intends to handle ralinepeg and etrasimod commercialization itself, a contrast to many local biotechs that partner with big pharma on marketing and sales. Munshi said equity markets, in general, seem to be rewarding the go-it-alone approach.
"The other thing we've seen over the last decades is how many companies just get stranded with partnerships. If you partner your compound, you're basically cutting coupons for the rest of your life," Munshi said. "I think great companies control their destiny all the way throughout."
Not all aspects of the turnaround have gone smooth. Munshi said it took longer than anticipated to sell a Switzerland manufacturing facility associated with belviq. But finally, Arena is out of the obesity market.