PROPERTY: DEVELOPER, DESIGNER PLAN MIXED-USE PROJECT IN SOLANA BEACH
'Flight' Plan Ready to Help Renew the Cedros Design District
Sunday, May 13, 2018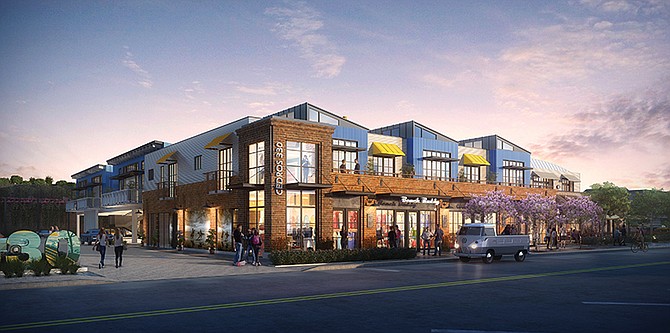 San Diego — The man who was a driving force behind creation of the Cedros Design District in Solana Beach more than 25 years ago has come up with a project he hopes will breathe new life into the two-and-a-half block collection of shops, day spas and boutiques.
But Sean MacLeod isn't going to build it.
For that, he turned to one of North County's most prolific developers, Adam Robinson's RAF Pacifica Group.
"That project was designed to create a focal point in the middle of Cedros Avenue where there wasn't one before," said MacLeod, who is managing director of the South Cedros Property Owners Association.
"Adam, unlike some other people, is going to do a great job. Adam is the perfect guy, his group is the perfect group to do this build-out," MacLeod said. "This will absolutely continue the upward swing of Cedros."
The Cedros Design District is in the center of Solana Beach with a mix of more than 85 businesses from real estate offices and cafes to furniture stores and clothing vendors.
Filling a Hole
MacLeod spent two years designing the new project and getting city permits and California Coastal Commission approval for it, before turning it over to RAF Pacifica, which acquired the land last year for $5 million.
Within the next few weeks, Robinson expects to break ground on the 26,000 square foot mixed use project, which MacLeod dubbed Cedros 330 but Robinson has renamed "flight."
Flight will go on a one-acre spot that was Cedros Gardens until the owner retired and closed it in 2015.
Although it was a long-time fixture, "That nursery wouldn't draw the kind of people who would drive and spend the day in the Cedros Design District," McLeod said.
The hope is that RAF Pacifica's project "will fill a big hole in the middle of Cedros Avenue," McLeod said.
"It will be a night and day difference when this project gets underway and this project opens," MacLeod said.
The venture will include a 3,200 square foot restaurant and 5,000 square feet of retail on the ground floor.
The second floor will have 8,000 square feet of office space and eight apartments taking up an additional 10,000 square feet.
"It's going to be a really good mix for that street," Robinson said. "There's a need for newer retail on the street."
Town Center Feel
Combined with the opening in November 2017 of the 11,560 square-foot West Elm furniture and home decor store, MacLeod said the project will "create a very town center kind of feel" to the design district.
"I believe we are at the beginning of jumping up to the next level for the entire Cedros Design District," MacLeod said.
Construction of the RAF Pacific project is expected to take 12 to 14 months, Robinson said, but he said prospective tenants already have expressed interest in leasing space, "even though we're not putting it on the market yet."
Except for some interior modifications, the project will be the same as MacLeod proposed.
"The exterior and all of the design details, that's what my team and I put in, and they are just replicating it. I'm proud of that whole effort," MacLeod said.
At the same time that RAF Pacifica is gearing up for construction of the Solana Beach project, it's moving ahead with construction of two mixed-use buildings totaling 53,106 square feet on a 4.43 acre site at 6023 Innovation way in Carlsbad.
Tenant in Carlsbad
The company has already leased 19,620 square feet of the Carlsbad project, dubbed "lift," to the Carlsbad-based Ezoic, a tech company that serves small website publishers by determining which layout of a website attracts the most viewers.
Ezoic will occupy the entire second floor of one building and part of the second building.
Construction is slated to be finished this quarter.
"We weren't even really marketing it and the tenant came to us because they drive by it all the time and they really wanted the space," Robinson said.
Among RAF Pacifica's other projects are a 146,108 square-foot creative industrial building in Carlsbad called "create," a two-building 277,410 square-foot "distribute" office and industrial complex in Carlsbad; the four-building, 219,477 square-foot "production" creative industrial campus in San Marcos, and the 171,098 square-foot "vector" creative industrial building in Carlsbad Oaks North business park.
"We've been doing a lot of industrial and office but we also really like mixed use projects," Robinson said. "We're still looking to do office and industrial, but we're expanding within San Diego, looking to do more mixed use projects as well," Robinson said.