Kratos Sees Q1 Revenue Increase
Thursday, May 10, 2018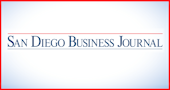 Kratos Defense & Security Solutions Inc. reported revenues of $143 million, or an 8.3 percent increase compared to $132 million in total revenue during the same quarter last year.
Its first quarter ended on April 1.
Kratos (Nasdaq: KTOS) is based in San Diego and develops transformative, affordable technology for the Department of Defense and commercial customers.
Its Unmanned Systems Division generated year over year revenue growth of 78.2 percent, to $27.8 million, up from $15.6 million in the first quarter of 2017.
"Kratos' core unmanned target drone, satellite communications, microwave electronics, training and missile defense related businesses drove Kratos' first quarter results," Eric DeMarco, Kratos' president and CEO, said in a news release.
In April, Kratos announced it was partnering with Alabama-based Dynetics for Phase III of the Gremlins project to launch and recapture unmanned aerial drones.
"With the Gremlins award, we are now more confident than ever that Kratos' tactical unmanned aerial systems business will significantly increase the already strong organic growth we are forecasting for our current core businesses in future years," DeMarco said.
READ MORE: Executive Q & A: Steve Fendley, Kratos Defense & Security Solutions