Nashville Accelerator to Welcome IP Attorney's Guitar Co. to Its Fold
Thursday, May 3, 2018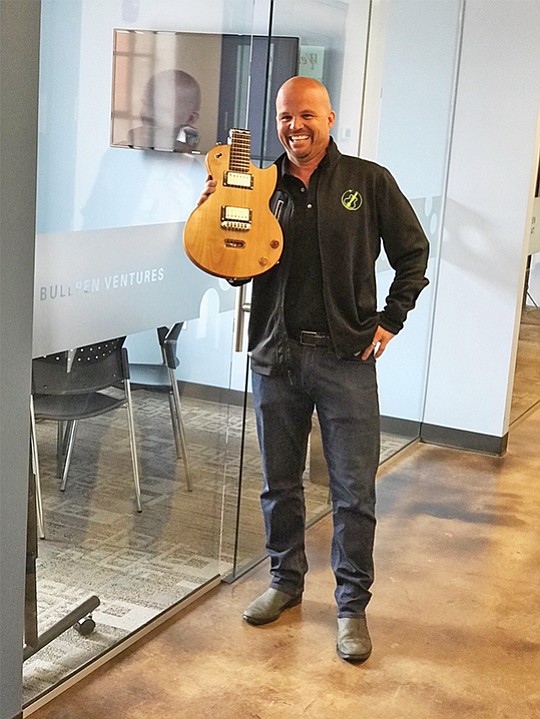 San Diego — Jonathan Spangler joined San Diego medical device company NuVasive in 2001 as its first attorney.
He was the company's chief patent counsel for nearly 15 years, but he also held another important role.
"I was tapped to be the Paul Shaffer of the company band, which made me probably the luckiest patent attorney in the country," he said.
Spangler, who said he comes from a musical family, has played guitar for years, and would often tote his around as he traveled in his role with NuVasive.
Spangler left NuVasive in 2016 and decided to invent a travel guitar that he would want to use.
"Historically, travel guitars have been either a pared-down, smaller-size version of a normal guitar, or they'll remove the body altogether so you're playing something that looks like a broomstick, or they'll take the tuning machine and the headstock and put in the body so it looks like a hatchet … but none of them look, feel or play like a normal, full-size, 22 fret guitar," he said. "That was the nut we were trying to crack, and so far, we're pretty encouraged by how things are going."
He wanted the instrument to be able to fit in a carryon for air travel, and developed an instrument with a folding neck to make it more portable.
"The pain points of traveling with a guitar are what led me to finally take my own advice as a patent attorney," he said. "I've always said, if you don't like the options available, create what you want and if it's novel, get a patent on it and make money."
The travel guitar is the first product being developed for Ciari Guitars, the company Spangler started. He plans to unveil the latest prototype in Nashville in June at the National Association of Music Merchants' summer exhibit.
In the meantime, Spangler will be spending a lot of time in America's Music City: Ciari was one of 13 startups recently accepted into Project Music Portfolio, a 12-month entrepreneurship program backed by the Nashville Entrepreneur Center and the Country Music Association for music industry-centric startups.