TECH: INTEL READY TO TAKE ON QUALCOMM FOR 5G DOMINANCE
Qualcomm's Next Chapter - TECH: Intel Ready to Take On Qualcomm For 5G Dominance
Wednesday, March 28, 2018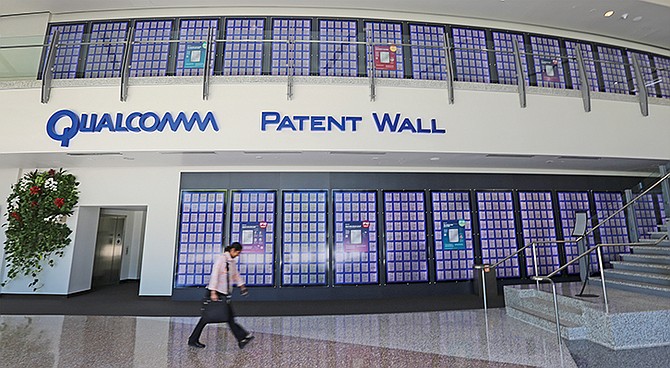 San Diego — Intel Corp. is coming after Qualcomm Inc. — years after, you might say — in the battle for mobile technology dominance.
QUALCOMM
CEO: Steve Mollenkopf
Revenue: $22.3 billion in fiscal 2017; $23.6 billion in fiscal 2016
Net income: $2.5 billion in fiscal 2017; $5.7 billion in fiscal 2016
No. of local employees: 13,000
Headquarters: Sorrento Mesa
Year founded: 1985
Stock symbol and exchange: QCOM on Nasdaq
Company description: Semiconductor company and wireless technology developer
INTEL CORP.
CEO: Brian Krzanich
Revenue: $62.8 billion in 2017, up from $59.4 billion in 2016
Net income: $9.6 billion in 2017, down from $10.3 billion in 2016
Number of local employees: Not reported. It employs about 53,000 people in the United States. Notably, Intel is currently advertising to fill a number of engineer openings in the San Diego area as part of its intention to create a "complete modem team" focused on mobile communications protocol HSDPA and the mobile device high-speed communications standard LTE.
Headquarters: Santa Clara
Year founded: 1968
Stock symbol (and exchange): INTC (NASDAQ)
Company description: Maker of semiconductor chip, supplier to computing and communications industries. It provides chips, boards, systems and software for computers, servers and networking and communications products.
After falling behind Qualcomm in cellphone microchip design, the Santa Clara-based semiconductor giant crowed last month it will give the San Diego company "formidable and very meritorious" competition in the next-generation wireless technology known as 5G.
"On the modem and technology side, we're going to be investing and executing on a level where we think we can give Qualcomm an extremely competitive environment," Venkata ("Murthy") Renduchintala, Intel's chief engineering officer and a former Qualcomm executive, told technology website TechCrunch.
Intel is positioned to be a significant player as 5G spreads during the next two years, having signed recent deals with laptop manufacturers and a pair of Chinese wireless technology companies. But analysts say it's unlikely the personal computing powerhouse will be able to seize the upper hand on wireless handsets, at least in the near term: Qualcomm is simply too far ahead.
Multipronged Competiton
There's some indication Intel may be taking the fight to Qualcomm's backyard.
As of last week, Intel was advertising online to fill a number of engineer openings as part of its intention to create a "complete modem team" in the San Diego market focused on mobile communications protocol HSDPA and the mobile device high-speed communications standard LTE. A company spokeswoman dismissed the umbrella job posting as outdated and declined to comment on it.
Signs of an escalating clash with Intel have been easy to overlook in recent weeks, as international attention focused more on Singapore chipmaker Broadcom Corp.'s bid for Qualcomm, as well as the dizzying fallout. Next to Qualcomm's licensing trouble and shareholder discontent, Intel's challenge looked like just one more problem for the San Diego company to wrestle with.
But the Intel-Qualcomm rivalry takes on epic significance in context of the two companies' widening confrontation across an array of sectors, from auto technology and the internet of things to data centers and artificial intelligence. Neither seems willing to cede leadership anywhere.
Now, with Qualcomm's pending acquisition of Dutch chipmaker NXP Semiconductors NV, the world's largest maker of vehicle electronics, the San Diego company "goes head-on with Intel in more areas than ever before," said Jim McGregor, founder and principal analyst at Arizona-based Tirias Research.
The rivalry does have bounds. Intel, the world's second-largest semiconductor chipmaker after South Korea's Samsung Electronics Co. Ltd., is primarily an equipment and infrastructure company that has maintained a modest presence in wireless by supplying modems to Apple Inc. While a little more than half of Intel's business is in laptops, it sees servers and data-centric businesses as driving much of its growth.
By contrast, Qualcomm has focused on consumer wireless, where its work on fully integrated modems and processors has given it a global lead in mobile technology, with more money-making patents than anyone else in the sector.
Traditional distinctions aside, recent events have seen each company boldly entering the other's domain.
In November, Qualcomm shipped Centriq 2400-series data center chips it says are faster and less expensive than Intel's. Notably, they contain ARM architecture not used by Intel since 2006.
The following month, Microsoft Corp. showed off new laptops powered by Qualcomm Snapdragon 835 chips. They also rely on ARM architecture, the type used by most smartphones but not as many laptops.
5G Priority
Intel has made 5G a priority after falling behind the pack on earlier mobile technologies. It unveiled a lineup of 5G modems in November, including multi-mode commercial devices and an LTE version allowing broadband wireless connectivity.
In February, Intel announced a multi-year collaboration with Spreadtrum and RDA, wireless subsidiaries of China's Tsinghua Unigroup. The goal is to develop 5G-ready smartphones, equipped with Intel XMM 8000-series modems, for the Chinese market.
Intel also said last month it was working with Dell, HP, Lenovo and Microsoft to bring 5G-ready laptop-tablet combinations to market by the end of next year.
It may not be long before Qualcomm and Intel come into direct contact in other areas.
Qualcomm's $47 billion bid for NXP would expand the IOT and automotive presence it established in 2015 by paying $2.4 billion for U.K.-based chip designer CSR plc. In many vehicle applications, NXP would give Qualcomm a commanding position. Even without the Dutch company, however, Qualcomm has diversified in recent years by making chips for a variety of devices, including drones and wearables.
Intel, amid its own IOT push, is also moving aggressively in auto tech. It bought Movidius in September 2016 for an undisclosed sum. The San Mateo-based company makes chips that process computer vision.
In March 2017, Intel picked up Israeli auto sensor and camera company Mobileye for $15 billion. The acquisition was seen as bolstering Intel's push in driver-assistance technology and autonomous vehicles.
Auto Tech Could Go Either Way
Auguste "Gus" Richard, a Bay Area analyst with Minneapolis-based Northland Capital Holdings, envisions Intel growing its business incrementally by taking some 5G market share. But he expressed doubts the company will soon overtake Qualcomm in mobile technology — or that Qualcomm can mount a serious challenge in the server business.
"These guys dance around each other forever," Richard said. He added that while auto tech is the most interesting area of their competition, It'll take years to see what will happen in the segment's key battleground of self-driving vehicles.
McGregor, at Tirias, said Intel is right to view itself as an underdog in 5G. With Apple and other handset-makers considering introducing their own modems, Qualcomm's vast intellectual property holdings give it a big edge.
As for Intel's pledge to make a big splash in 5G, he noted the company has previously fallen short on its wireless promises. But as he noted, Qualcomm has also failed to deliver in the areas of low-power displays and mobile TV broadcasting. He said 5G is probably big enough for both companies to do well.
For all of Qualcomm's recent struggles, McGregor sees the company as being competitive and well-positioned for the decade ahead. He predicted more acquisitions by it and Intel alike "as the competition between these two companies heats up," especially, he noted, in the field of artificial intelligence.