LEGACY: PIONEERING FAMILY'S ROLE ENDS AT CO.; IMPACT ON COMMUNITY IS ENDURING
Qualcomm's Next Chapter - LEGACY: Pioneering Family's Role Ends At Co.; Impact on Community Is Enduring
Wednesday, March 28, 2018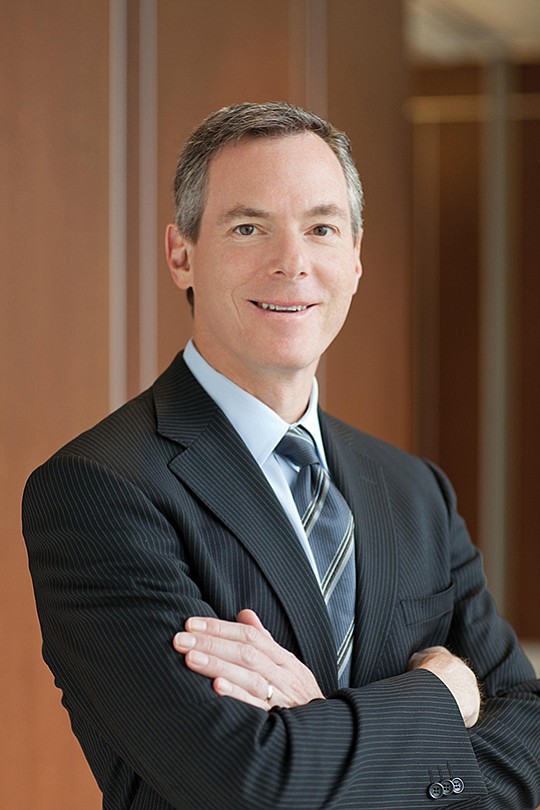 San Diego — UC San Diego's Jacobs Medical Center and the Jacobs School of Engineering, the San Diego Symphony's Jacobs Masterworks program, the Crick-Jacobs Center at the Salk Institute for Biological Studies, the Jacobs Building in downtown San Diego's Museum of Contemporary Art.
There's a pattern here and it's only scratching the surface on just how much the Jacobs family (of Qualcomm Inc.'s renown) has put its stamp on the communities of San Diego.
But it's been hard times of late for the chip-making and telecommunications company — and quite possibly — for the family that's helped to create it.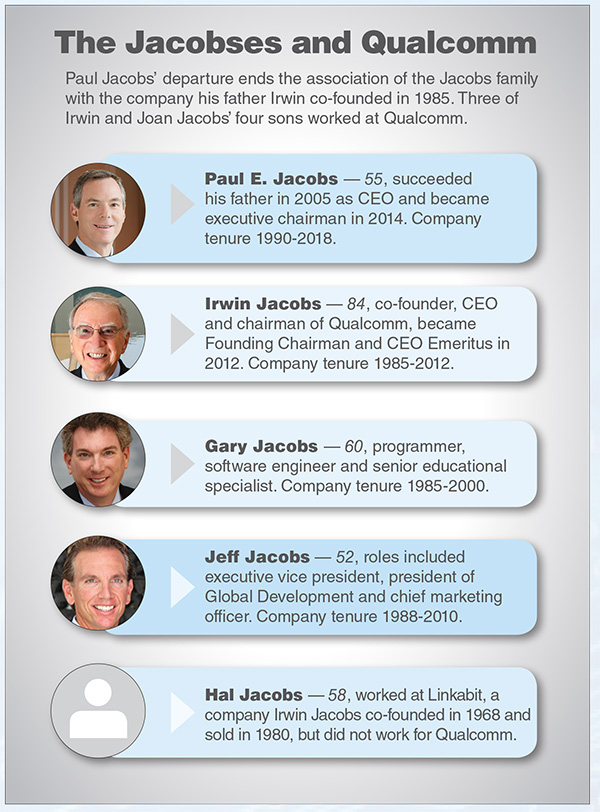 Having survived a hostile takeover attempt from Broadcom Ltd., (NASDAQ: AVGO) earlier this month due to President Donald Trump's intervention, the subsequent ousting of Qualcomm co-founder Irwin Jacobs' son, Paul Jacobs, from his position as chairman of the board, and a continuing, drawn out legal battle with Apple Inc. (NASDAQ: AAPL), it's unclear where the company and the family that helped guide it for so many decades will end up.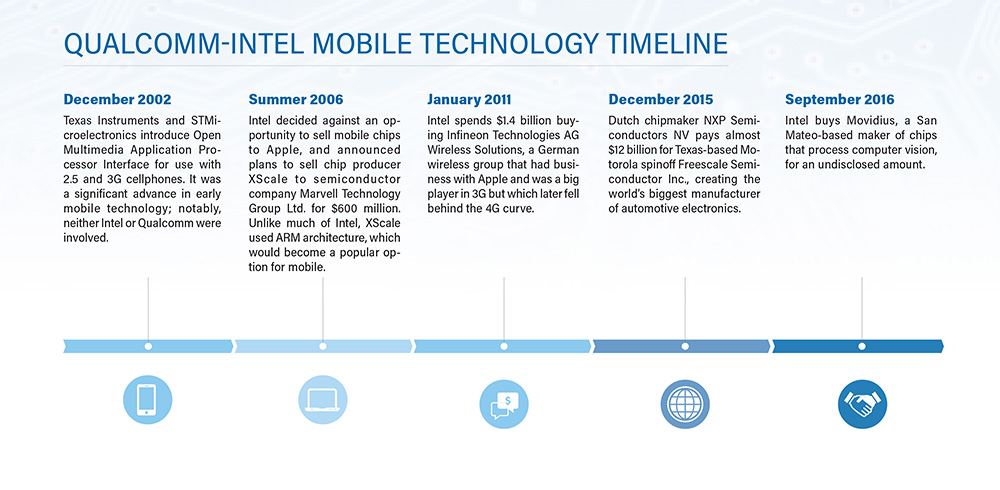 In the Beginning
Irwin Jacobs arrived in San Diego in the late-60s to join UC San Diego's Muir College faculty as a professor in electrical and computer engineering.
In 1985, Jacobs founded Qualcomm (NASDAQ: QCOM) with Andrew Viterbi and several others after leaving his company Linkabit in 1985, explained Dave Mock, author of "The Qualcomm Equation."
"Linkabit had merged with M/A COM several years before in 1980 and Irwin no longer found the work — or changes in the management there — interesting," Mock said. "Irwin had timelines for success and ROI much further out than most managers would tolerate, so it's not surprising that he would prefer to run his own company than take direction from others."
Harvey White, Franklin Antonio, Andrew Cohen, Klein Gilhousen, and Adelia Coffman, joined Jacobs and Viterbi to form the budding telecommunications company with its first office in La Jolla.
A Family Affair
Joan and Irwin Jacobs' sons, Gary, Hal, Paul and Jeff, quite literally grew up around gadgets and gizmos their father would bring home.
And from an early age Paul Jacobs seemed to have a great proclivity to engineering and writing computer code.
"I had the opportunity to see a lot of engineering when I was very young," Paul Jacobs said in an interview with the alumni magazine of his alma mater, UC Berkeley, last year when he was selected as the school's alumnus of the year.
Paul Jacobs, who eventually earned three degrees in electrical engineering from the college, would join his father's company in 1990.
Brothers Gary and Jeff also played roles within their father's company. But it was Paul who would continue to climb the ranks — for 15 years — before he inherited his father's position as CEO of Qualcomm. Paul would lead Qualcomm in that position until 2014 when he relinquished the title to Steve Mollenkopf.
At the time, speculation was rampant that Mollenkopf might leave to become CEO of Microsoft Corp. Qualcomm ended the talk by naming him the next CEO. Paul, in a statement then, offered Mollenkopf his congratulations.
Paul Jacobs' service to the company remained, however, as chairman of the board.
On March 9, when Broadcom's bid for the company was still viable, Jacobs stepped down from his position on the board as executive director in favor of Jeffrey Henderson, an independent director, who was named a non-executive chairman. Qualcomm said at the time it was discontinuing the position Jacobs had formerly held and that he would remain a director.
A few days later, Trump prohibited the $117 billion Broadcom takeover effort from proceeding, citing national security reasons.
Following the Broadcom deal veto, Qualcomm announced it would not re-nominate Jacobs to the board, after he expressed interest in making a bid to acquire the company his father helped to create.
"The board reached that decision following his notification to the board that he has decided to explore the possibility of making a proposal to acquire Qualcomm," the company said.
The company also said the board would consider any proposal from Jacobs for acquisition.
Jacobs responded to the board's actions in a statement, saying, in part: "I am glad the board is willing to evaluate such a proposal, consistent with its fiduciary duties to shareholders. It is unfortunate and disappointing they are attempting to remove me from the board at this time."
Any proposed acquisition effort from Jacobs, however, appears a longshot, observers have said.
"It may be more valuable that Paul sends a signal that he's willing to take the company private than actually being able to accomplish it," Mock said. "Either way, whether successful or not, it will be a very different Qualcomm in the future."
Family Ties, Business Ties
"Family businesses that really succeed, that really make an explosion in a given community to the way the (Jacobses) have, they operate as a business first," said Wayne Rivers, co-founder and president of the Family Business Institute, and author of several books on the subject of family business. "They make decisions that are in the best interest of the business."
That, contrasted against a company such as the The New York Times, (it's now embarking on its fourth generation ownership under the Sulzberger family), makes a lot of its decisions based on the best interests of the family, and it's struggling, according to Rivers.
"For a family business to truly make it and be remarkably successful over long periods of time, they have to behave like a business first," Rivers said.
Community and Business
Mock said he believes Qualcomm would suffer if the Jacobs family is no longer involved with the company. "Irwin, Paul (and the rest of the founders to some extent) ignited the passion in the staff at the company," he said. "The energy and enthusiasm, (the way) they went after challenges in the organization has everything to do with the core founders and staff there. Without the iconic leadership present, people that are the heart and soul of Qualcomm will slowly find their way to the exits and the company will drift into the background."
Rivers built on that notion saying: "There's no way to replace that entrepreneurial dynamism once it leaves the community. So if the Jacobses were to pick up and leave San Diego and take all their fortune with them and settle somewhere else...San Diego would feel it."