TECH: COMPANY'S PAST ACTIONS CEDED 4G TO QUALCOMM
Intel's Past Missteps May Be Motivating Its 5G Efforts
Wednesday, March 28, 2018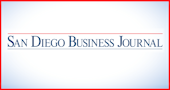 San Diego — Don't be surprised Intel is ramping up its wireless competition with Qualcomm. The shocker is why the two haven't been at each other's necks for years.
The San Diego-based mobile technology giant may owe some of its leadership in the sector to missteps Intel appears to have taken years ago when it underestimated the smartphone and what is now the dominant wireless chip-design architecture, ARM.
Missed Opportunity
Intel had opportunities to compete more strongly in mobile-phones before and since what is now seen as a defining event: its 2006 sale of ARM chip-maker XScale for $600 million to its Silicon Valley competitor, Marvell Technology Group Ltd.
Intel had been designing silicon for Apple Inc. but never agreed to build chips for the iPhone, which the Santa Clara-based semiconductor giant didn't think was going to sell particularly well.
In 2008, Intel went after the mobile market with a non-ARM processor, the Atom. It scored deals with Microsoft Corp. and, later, Google. The chip never claimed a great deal of market share in smartphones.
Intel took a new tack a few years later. In January 2011, it paid $1.4 billion for the German wireless group Infineon Technologies AG Wireless Solutions. The company had business with Apple and was a big player in 3G. But Infineon is seen as having failed to keep up with Qualcomm in 4G.
Qualcomm, meanwhile, was gobbling up market share. Its focus on intellectual property, and ARM as a power-saving alternative to Intel's x86 architecture, paid off as it climbed to dominance in mobile chip design.
Jim McGregor, founder and principal analyst at Arizona-based Tirias Research, pointed to what he sees as a telling difference between Intel and Qualcomm: The San Diego company was founded on radio frequency technology, essentially doing truck system radios. But the Santa Clara company did not originally develop its own mobile technology; it bought in.
4G
It seems to him Infineon's inability to match Qualcomm on 4G was a "big inflection point," partly because other startups were trying to get into the field at the same time.
McGregor asserted that if it didn't have business with Apple — an arrangement some have considered a supplier diversification move by the Cupertino computer maker — Intel might not even be in the business of smartphone modems.