NONPROFIT: PEARL PUTS VARIED BACKGROUND TO USE FOR CHARITABLE ORGANIZATION
CFO Awards Community: Volunteering Leads to a Most Rewarding Position
Sunday, March 25, 2018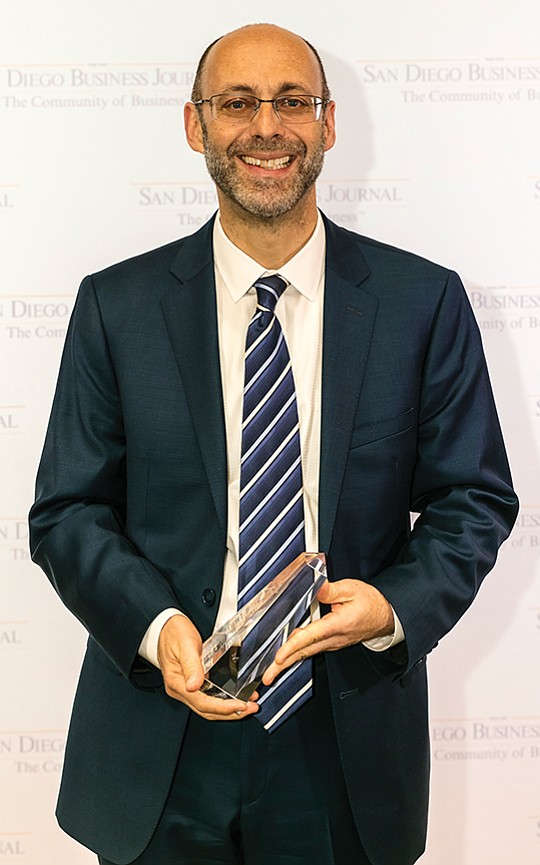 San Diego — Jeremy Pearl never set out to be the financial guide behind San Diego's oldest community foundation, but that's where he proudly is today.
Pearl is the executive vice president and chief financial officer of the Jewish Community Foundation San Diego. For his work, Pearl is a San Diego Business Journal CFO of the Year award winner for 2018. He was selected in the government, education and community award category.
"I think one of the best stages one can reach in a career is to get to a point where you can leverage all your prior experiences to make a difference, and that's how I felt soon after I started at the Foundation," Pearl said. "I have such an interesting job, which includes lot of variety and some less traditional roles for a CFO."
In addition to his CFO role, Pearl recently served as interim chief executive officer for more than a year and facilitated a seamless transition and partnership with the new CEO.
Over Pearl's 12 years with the foundation, its assets under management have grown from $203 million to about $400 million.
Tech Innovations
Pearl in 2017 was instrumental in introducing a new investment option, an Impact Investment Pool, which is especially appealing to Millennials and helps everyone align their giving with their values. This was the first organization of its kind in the country to add this impact option.
He also introduced a new technology portal, more in line with what investors are used to in the private sector.
"When I learned of the (CFO) award, I was so honored and humbled, because I'm just part of a larger story at the foundation," Pearl said. "And it's a great story with exciting chapters ahead that I hope to be a part of for a long time."
Background in Tax, Law
The 52-year-old married father of three grew up in England and moved to San Diego in 1986, after graduating from the University of Wales. He went on to work for HomeFed Bank, then Wells Fargo before earning a law degree and master's degree in taxation through the University of San Diego School of Law.
After practicing law for a couple of years and working in estate and tax planning, occasional stints as a volunteer with the Jewish Community Foundation led Pearl to his current role.
"The Jewish Community Foundation is quite simply in the business of inspiring, educating and engaging individuals and families to support them as effective philanthropists and social investors, all through a lens of Jewish values," Pearl said. "We believe in the power of every individual to change the world."