EDUCATION: CLOPINE SAYS OUTREACH INSTRUMENTAL IN FIRM'S ROBUST GROWTH
CFO Awards Medium Private Company: Executive Shines by Sharing Wealth of Knowledge
Sunday, March 25, 2018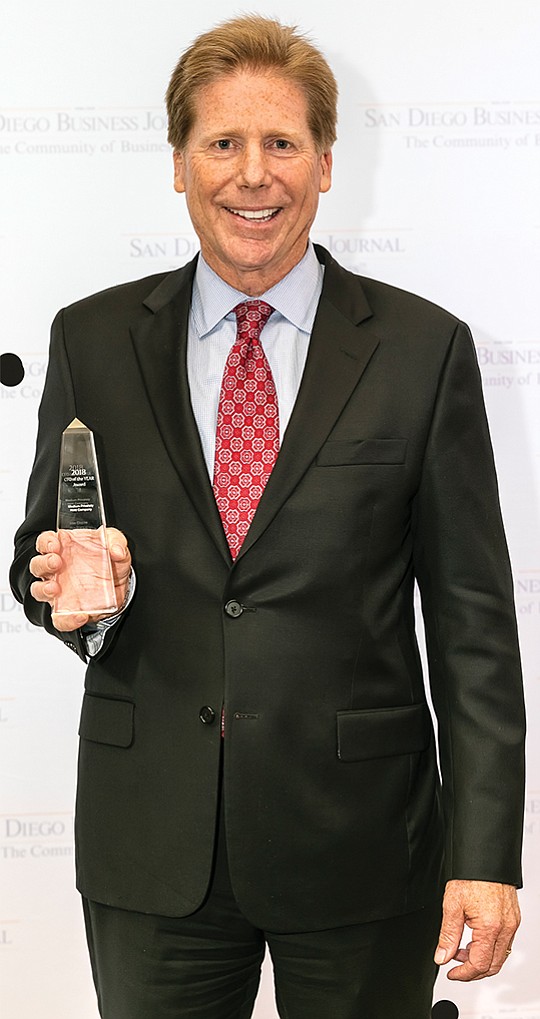 San Diego — Over the past nine years, Pure Financial Advisors has grown from a company with 10 employees that managed $50 million in assets to one with 60 employees managing assets of more than $2 billion.
One of the key drivers of that growth? The talents of Alan Clopine, who wears the hats of both CEO and CFO for the San Diego-based wealth management firm.
On March 15, Clopine was recognized for his leadership with the CFO of the Year award, for medium-size privately held company, at an event hosted by the San Diego Business Journal.
"I was very surprised and very pleased. I didn't expect it," said Clopine, who was a CPA in private practice before joining Pure Financial Advisors. At the time, the firm was about a year old and considered a startup.
A Fiduciary Agent
Clopine credits a couple of factors for the company's rapid growth. One is that Pure Financial, rather than selling in-house financial products to its customers, serves as a fiduciary agent that collects fees for its services. The approach eliminates potential conflicts, he said, because his company's financial advisors help clients find the best investment products for their personal situation, rather than funds that provide commissions for the advisor
"It puts us more on the same side of the table as (our clients)," he said.
Another factor is that Pure Financial decided early on to become an educational firm, one that seeks to inform potential clients and the public. They do this through classes taught by financial advisors at colleges and universities; videos, podcasts and other materials on their website; and with a radio show and companion TV show — called "Your Money, Your Wealth" — which are broadcast in San Diego, Los Angeles and Orange counties. Clopine co-hosts both shows with his colleague, Joe Anderson.
"That's how we get our clients. That approach, as a content or informational firm, has really served us well," Clopine said.
Heart of a Teacher
Educating others is one thing Clopine really enjoys about his job. In addition to teaching current and future clients about financial topics through the radio and TV shows, Clopine also teaches weekly classes for Pure Financial's employees on tax planning and case studies of financial planning scenarios. The latter course is intended for employees who want to become financial advisors.
Tax planning is a big part of the service that Pure Financial offers to its clients, he said. "We think those things are intertwined, taxes and financial planning."
Clopine said he enjoys interacting with clients and co-workers and considers himself a people person. That attitude is apparent to his colleagues, said Danielle Martin, chief compliance officer/director of operations with Pure Financial.
"You can tell that Alan enjoys being a mentor. Alan is a pleasure to work with, as he maintains an approachable attitude and leads by example," Martin wrote in an email.
Another way the company leads, said Clopine, is by moving away from potential conflicts of interest on the part of financial advisors to a relationship in which clients' interests come first. He said the advisor-client relationship has already evolved in many countries around the world and needs to follow suit in the U.S.
"We feel the industry has to change and we want to be the tip of the sword on that," he said.
Clopine envisions future growth for Pure Financial, expanding its current network of four offices in San Diego, Orange County and Los Angeles.
And he'll keep on giving financial advice over the airwaves, on a variety of topics including how to avoid an IRS audit to strategies for increasing cash flow in retirement, served up with humor.
"I think my own mission in life is to help as many people as I can, and the way I can do that the best is to share my expertise," Clopine said.