FINANCE: SIGNATURE COVERS BOOKKEEPING TO BUSINESS INSIGHTS
Accounting Outsourcing Firm Fills Holes in Cos.' Finance Teams
Wednesday, March 21, 2018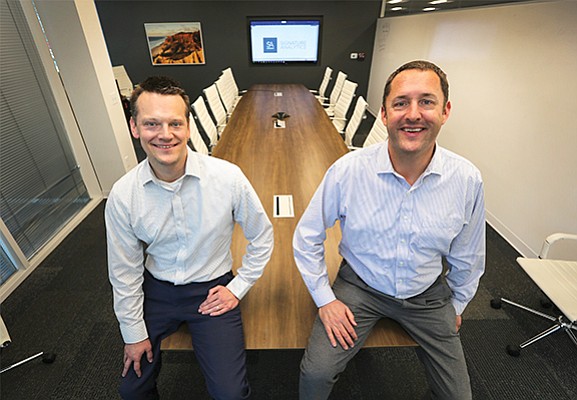 San Diego — Signature Analytics CEO Peter Heald sees the scope of the rapidly growing financial firm's opportunity through the lens of "the second black box" of small business — operational finance.
"The first black box is IT," Heald said. "Not many small business owners understand IT."
No kidding.
And many growing small businesses have not mastered the nuances of bookkeeping and financial reporting, either.
Signature Analytics is a fractional accounting outsourcing firm that helps businesses build better financial reporting processes, which yields cleaner financial data that allows operational insights and, ultimately, a more clear action plan.
The company has grown from revenue of $4 million in 2015 to $6.2 million in 2016 and $8.5 million in 2017. It added 30 employees last year and is on pace for similar growth in 2018. Signature Analytics has expanded in Orange and Los Angeles counties, though about 60 percent of its revenue comes through the office in Sorrento Valley.
Rough Start
Like many other growth stories, it was an overnight success years in the making.
Jason Kruger founded the company in 2008, the same week financial services firm Lehman Brothers collapsed in what would become the largest bankruptcy filing in U.S. history and trigger the onset of the Great Recession. Kruger, who previously was an audit manager for Deloitte and then Moss Adams LLP, toiled away for about four years on how to position the business before he had enough revenue to hire an employee.
Signature Analytics had six employees at its five-year mark, and as the business continued to grow Kruger brought in Heald as CEO in October 2015. Heald previously was president of Cumming Corp., a project management consulting firm.
Kruger remains as president, and he said he expects the company to be at about 75 employees by its 10-year anniversary this fall. Signature Analytics now employs 10 CFOs to work with the clients.
Operational Insights
Signature Analytics' foundation is providing fractional services at all four levels of finance — bookkeepers, accountants, controllers and CFOs. They also train companies on how to collect data in a way it can lead to operational insights. For example, they build automated dashboards to not only break down revenues and costs but also reveal trends.
"Clients are paying only for the appropriate amount of work at the appropriate levels," Heald said. "It starts with transactional accounting and bookkeeping, and at the higher levels we're developing metrics and optimizing the business."
Prev Next