CO. FACES MANY CHALLENGES TO BOOST LANGUISHING STOCK PRICE, FULFILL PLEDGE TO STOCKHOLDERS
Qualcomm's $100 Question
Tuesday, March 20, 2018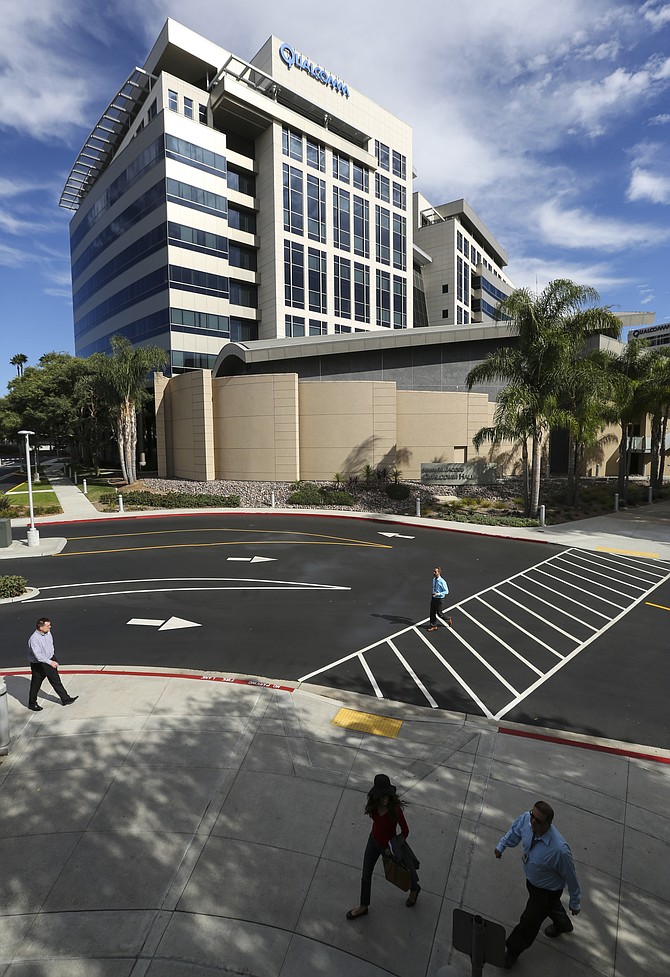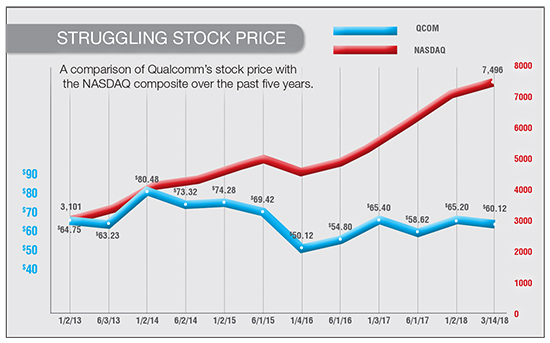 San Diego — A presidential order put an end to Broadcom Ltd.'s $117 billion bid for Qualcomm Inc.
Now the San Diego chipmaking giant is preparing to face shareholders at its previously postponed annual shareholders meeting, scheduled for March 23.
A number of challenges face the company, all of which have the potential to affect its path to the $100 per share price point management has said it is prepared to achieve in 2019. But the unexpected end to the hostile takeover bid may also give it opportunity to refocus its energies and resources on those tasks.
"The stock price has been languishing in the low $60s," said Nikhil Varaiya, a finance professor at San Diego State University. "The big question becomes how do you get from $60 to $100 in a couple years?"
The latest offer Broadcom made before calling off the acquisition attempt after President Donald Trump ordered the deal ended, was for $79 per share.
QUALCOMM
CEO: Steve Mollenkopf
Revenue: $22.3 billion in fiscal 2017; $23.6 billion in fiscal 2016
Net income: $2.5 billion in fiscal 2017; $5.7 billion in fiscal 2016
No. of local employees: 13,000
Headquarters: Sorrento Mesa
Year founded: 1985
Stock symbol and exchange: QCOM on Nasdaq
Company description: Semiconductor company and wireless technology developer
"The fact that the stock price was not even close to $80, which was the premium these guys were willing to offer, that tells you a lot of this stuff is weighing on the stock price," Varaiya said.
Qualcomm is by far the region's largest private employer, with about 13,000 local employees and a market cap of $89 billion, and one of only two companies in the region on the Fortune 500 list.
Dealing With Apple
With that fight out of the way, the company has more resources available for its ongoing legal battle with Apple over licensing fees.
"Management always said they thought they would prevail in the Apple lawsuit, which is obviously a big overhang on that stock, and this will give them an opportunity to prove they're right," said Jerry Braakman, chief investment officer at Santa Ana-based First American Trust, which holds Qualcomm shares. "Investors will have to tease out how much they believe management and what timeframe they're willing to wait for that to get resolved, and I think that's really the investment question."
If the company is able to resolve it favorably, Qualcomm staying independent will likely be a better outcome for long-term shareholders, and San Diego, he said.
Prev Next