SD 500 Update: Retiring Types & Bragging Rights
Monday, March 19, 2018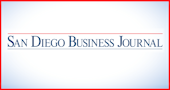 San Diego — Sempra Energy CEO Debra Reed becomes the fifth member of the SD 500 in 2018 to choose retirement. Her successor, current Sempra CFO and EVP Jeffrey Martin, also is in the SD 500.
Reed follows Bob Koerber of BAE Systems, Vice Admiral Mike Shoemaker of the U.S. Navy, Donald Kearns of Rady Children's Hospital and Irma Cota of North County Health Services to retirement row.
• • •
Among other departures and job changes from the SD 500 ranks:
Michael Rosenberg is leaving his post as managing
director at the La Jolla Playhouse to join the McCarter Theatre Center in Princeton, New Jersey.
Paul Jacobs no longer is executive chairman at Qualcomm (see page 1); it's the first time since the founding of the company in 1985 that a Jacobs is not CEO or chair. He remains on the board.

Neal Bloom has left his position at the tech employment firm Hired.com to do consulting, but he's plenty busy as chair of Startup San Diego, board member at San Diego Venture Group, analyst for Tech Coast Angels and teaching at UC San Diego.
• • •
Stath Karras, Jaime Alonso Gomez and James Harris can lead a collective bow over at the University of San Diego's School of Business Administration. College Factual has named USD the No. 1 undergraduate school for real estate education. Karras is executive director of the Burnham-Moores Center for Real Estate; Gomez is dean of the business school, and Harris is president of the university. Karras previously was a longtime executive for Burnham Real Estate Services and has been an adviser to the center since its founding in 1993.