Microlender Accion Reports Lending $3.6M to SoCal Businesses in 2017
Wednesday, March 14, 2018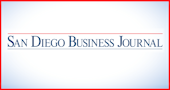 San Diego-based microlender Accion funded $3.6 million in loans to Southern California small business owners in 2017, with loans ranging from $300 to $75,000.
Of the 219 loans the organization made in 2017, 158 of which went to business owners in San Diego County, totaling $2.6 million.
Since it was established 24 years ago, Accion has disbursed more than $34 million via about 4,000 loans to more than 3,500 clients in Imperial, Riverside, San Bernardino and San Diego counties.
The organization said it expects to increase lending in 2018 as a result of a new product, called Rapid Loan, which it piloted in 2017. The program streamlines the process for smaller loan requests, and through it, business owners can access up to $8,000 in as few as three days, according to Accion.
Cristin Smith, owner of the holistic health center Saffron & Sage in Mission Hills, was among those who used Accion's Rapid Loan program in 2017, the organization said.
Smith launched the business in 2014, and opened her first brick-and-mortar location in September. To keep up with end-of-year demand, she turned to Accion to financing to allow her to purchase additional inventory for the center's boutique store.
Accion also held 15 small business training events in 2017, which were attended by nearly 700 business owners. The events included the Accion Academy for Entrepreneurial Success, a 10-week series of hands-on and one-on-one business counseling, from which 41 business owners graduated.
To learn more about Accion, which is a member of the nationwide Accion nonprofit lending network, visit us.accion.org/region/southern-california.
Reach reporter Sarah de Crescenzo at sarahd@sdbj.com.