Crinetics Pharmaceuticals Raises $63.5 Million in Series B Round
Wednesday, March 14, 2018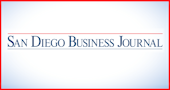 San Diego biotech Crinetics Pharmaceuticals, taking aim at endocrine-related cancers and endocrine disorders, raised $63.5 million through a Series B financing round.
The proceeds will go toward the development of CRN00808, a treatment for the hormonal disorder Acromegaly, additional therapeutics for endocrine conditions, and general corporate functions.
The round was led by Perceptive Advisors, and included new investors RA Capital and OrbiMed. Existing investors 5AM Ventures, Versant Ventures and Vivo Capital also participated.
In connection with the financing, Weston Nichols and Matthew Fust of Perceptive Advisors joined Crinetics' board. In addition, Mahendra Shah of Vivo Capital is stepping down from the board, with Jack Nielsen of Vivo taking his place.
Crinetics CEO and founder Scott Struthers was previously head of endocrinology and metabolism R&D at San Diego-based Neurocrine Biosciences.
The company raised $40 million in a Series A round in 2015.