BANKING: FUNDING BACKS FINTECH PLANS, POSSIBLE IPO
Investors Clear Path For Bank's Initiatives
Tuesday, March 13, 2018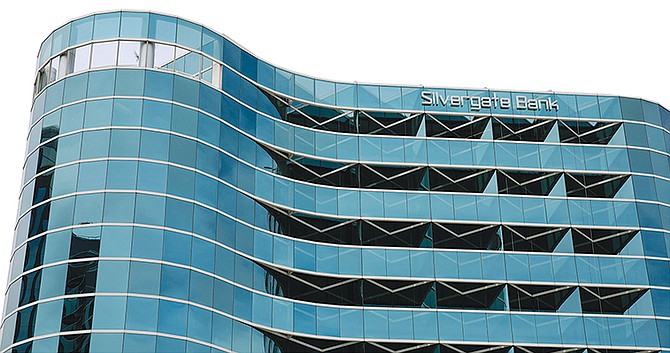 San Diego — San Diego's Silvergate Bank plans to go public as soon as this year — and its prescient bet on fintech has helped it prepare by more than doubling its equity capital, bringing on a dozen new strategic investors — including its first-ever cryptocurrency client.
The state-chartered commercial bank, which with $1.9 billion in total assets is the largest such institution based in San Diego, recently raised $114 million by selling 9.5 million shares of its common stock in a private placement. The move increased the bank's equity capital by more than 120 percent.
Silvergate didn't reveal who bought the stock, but described the purchasers as a mix of traditional bank investors and strategic investors with fintech experience.
The La Jolla-based bank has been active in the cryptocurrency segment of the fintech space since 2014, when it began accepting deposits from vetted cryptocurrency exchanges and other businesses involved in the digital currency ecosystem.
Maintaining the Momentum
"As this cryptocurrency initiative really started to grow last summer, we were checking the premise and saying, are we going to be able to make it to the IPO?" Silvergate CEO Alan Lane said. "It's obviously more efficient to raise capital in the public markets, but we wanted to make sure we had enough capital so we could continue to grow our business and not have to slow things down, so that's why we decided to go ahead and do the private raise now."
Its fintech efforts have boosted the bank's deposits significantly. In 2017, its noninterest-bearing deposits totaled $1.5 billion —a 770 percent increase over the year prior.
But its very first client in the space, the New York-based company Digital Currency Group (DCG), was a result of a relationship established before cryptocurrency was the talk of the industry — or of, really, any industry.
A Key Relationship
Before Barry Silbert launched DCG, which invests in digital currency startups, he ran SecondMarket Solutions, a trading exchange for private company stock. During the financial crisis, SecondMarket began eying commercial banks as potential targets, and reached out to Silvergate in that capacity.
"We got to know them a little bit and they got to know us," Lane said. "It ended up not going anywhere in terms of that initial effort, but they got to know us as a bank that is a little nontraditional, if you will; a bank that is willing to consider things that other people might be avoiding."
At the time, that was clear in Silvergate's decision to start mortgage warehouse lending during the housing crisis.
Later, when SecondMarket started trading bitcoin and struggled to find a bank that would open an account for the funds, it reached out to Silvergate.
Unbeknownst to the firm, Lane had recently become curious about bitcoin and its potential impacts on the financial system, and the bank had begun exploring how it could get involved with digital currencies while remaining in regulators' good graces.
Cryptocurrency 'Guinea Pig'
SecondMarket ended up being the bank's first crypto client.
"They were kind of like our guinea pig, our test case," Lane said.
Silvergate established a team to handle its digital currency client strategy, client services and due diligence, and developed its own compliance program.
Today Silvergate banks more than 100 companies that trade cryptocurrency.
Eventually Silbert sold SecondMarket to Nasdaq, and launched DCG.
The day the bank announced it had raised $114 million, DCG revealed its participation in the financing, spurring rumors that it had put up most or all of the funds.
"We are thrilled to welcome Silvergate Bank to the DCG family of companies," the New York firm tweeted.
But no single investor bought more than 10 percent of the shares sold, since doing so can come with additional oversight from banking regulators, and the entities that took the biggest shares were traditional banking investors.
'About One Dozen' Investors
DCG was among about one dozen strategic investors that made "relatively small" investments," Lane said.
"Their whole goal is to provide support for the broader ecosystem," he said. "It was a modest size investment, but certainly very impactful in terms of the fact that a digital currency group with their breadth and knowledge of the ecosystem would write a check of any size."
Of the $114 million Silvergate raised, the bank plans to use about 10 percent to repurchase its stock. Stock buybacks are one of the ways companies distribute money to shareholders. A company may also repurchase shares in anticipation of an increase in stock value, which often occurs following an IPO.
The remaining money will go toward the fintech deposit initiative and Silvergate's business banking and residential lending activities.
Lane said the bank plans to increase its headcount from about 160 employees to more than 200 by year's end, with about half of the new employees joining the fintech group.
"We kind of feel like we have the best of both worlds, because we've got this great fintech niche that has made us attractive to investors, but then we can also take some of that invested capital and put it back into our core bank to provide more resources to make bigger loans to existing customers," he said.
In addition to its La Jolla headquarters, Silvergate has banking centers in Carlsbad, Escondido and La Mesa and a loan production office in Orange County. The bank's parent company is Silvergate Capital Corp.