SERVICE: GRAHECK EXTENDS CARE TO STAFF, PATIENTS AND FAMILIES
Health Care Heroes: Alvarado Hospital Clinician Takes Outreach to New Levels
Monday, March 12, 2018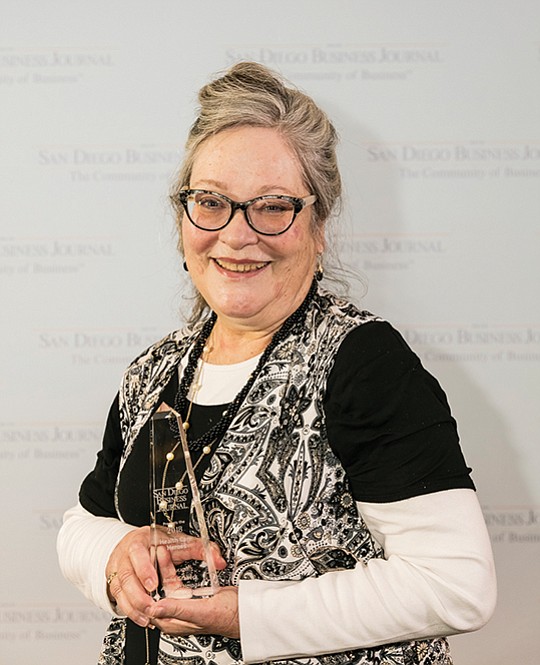 San Diego — Alvarado Hospital Medical Center clinical educator Anne Graheck saw to the details after a local mortuary brought an American flag to drape over a military veteran who had just died in the intensive care unit.
She was closing another patient's curtain to give privacy while the body was being wheeled out, but the man asked her to leave it open. He understood the man who had died was a veteran, and he wanted to honor him.
"He gave him a salute," Graheck said. "How amazing is that?"
Graheck's special sensitivity to death and dying makes her indispensable as Alvarado's patient relations ambassador. She takes people through important questions no one else thinks to bring up, like the ones dealing with life-sustaining treatments and insurance, and she does it with a natural ease that makes a
difficult time less so.
"There is a beauty to Annie that cannot be put into words," Alvarado CEO Robin Gomez wrote in an email. "She has the ability to show kindness, compassion and pure humility in dealing with patients, their families and staff. She cradles the patients with love and acceptance."
Graheck is winner of the San Diego Business Journal's 2018 Health Care Hero award for Health Care Educator.
Arriving at the 306-bed, acute-care hospital soon after her graduation from nursing school in 1985, she felt drawn to palliative care. The approach she developed with the help of a mentor was indirect and intimate: She may open a conversation with grieving family members by asking what the patient did during his or her working life.
Compassion is, to her, a gift to be shared.
"I have the ability to do this. It comes naturally to me," she said. "It's not a difficult conversation for me. It's very rewarding. ... I get to meet the most amazing people with the most amazing stories."
It's not her only job duty, though. Her responsibilities at Alvarado include putting on seminars, familiarizing new hires and coordinating medical-school graduates enrolled in the medical center's preceptor program.
Palliative Care
But palliative care is never far from her focus. It comes through, for example, when she's advocating for more resources to address impacts of the opioid and methamphetamine epidemics.
The patients she sees suffering from their addictions are often in their 50s and 60s. She said many face the end of their lives with no family ties or dependable friends.
It is important to Graheck that she not judge, only follow. She told of a man in his mid-20s whose health was declining despite a year of cancer treatment. She asked him whether he would want CPR if he stopped breathing, knowing that resuscitation efforts could hurt him.
"He said, 'You don't understand. My dad told me never to be a coward and never give up,' " she said. The man "took the hard way out," she said, dying in pain that could have been prevented.
Touching Lives
Alvarado Chief Nursing Officer Peggy Jezsu said Graheck brings far more to her job than is implied in her official title of clinical educator. She praised the way Graheck finds time to work closely with patients in critical care or oncology and their family members. She described her as the glue that holds the hospital together.
She shared a personal experience with Graheck from when Jeszu's husband was enduring chemotherapy treatments.
Seeing how Jeszu was too distraught to pay close attention to physician and nurse instructions, Graheck offered to act as scribe for the couple. She soon developed a bond with Jeszu's husband.
"Her kindness and humanity are deep, and her generosity is tireless," Jeszu wrote in an email. "To me, she is what nursing is."