San Diego Venture Group Recruiting Startups for Next 'Cool Companies' Cohort
Sunday, March 11, 2018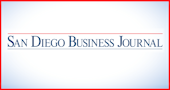 San Diego Venture Group has opened applications for its next cohort of Cool Companies.
Startups that are accepted get introduced to potential investors, mentors and advisors. More than 50 venture capitalists come to San Diego annually to meet with the companies selected by SDVG at a private event.
Companies also get other benefits, including booth space at the SDVG's Venture Summit in August and a one-year SDVG membership.
It costs nothing to apply.
A total of 31 startups were selected in 2016; 37 made the cut in 2017.
Together the 2016 and 2017 cohorts have raised more than $100 million, according to SDVG.
The Cool Companies application is available at sdvg.org.
Reach reporter Sarah de Crescenzo at sarahd@sdbj.com.