BIOTECH: CO. FINDS RIGHT BALANCE FOR WORK ON DRUG, DELIVERY SYSTEM
Platform Delivers For Halozyme
Thursday, March 8, 2018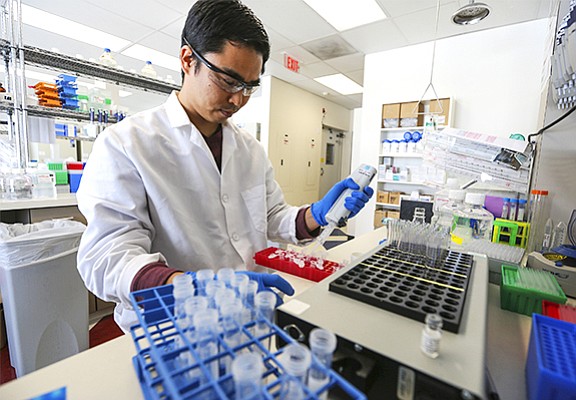 continued — J.P. Morgan analyst Jessice Fye put the probability of PEGPH20's success at 40 percent.
"Looking ahead, our focus remains on Halozyme's Enhanze platform and royalty streams, which we see representing both a valuation backstop and potential source of upside over time," Fye said in a Feb. 20 research note.
Agreeing on Enhanze's higher return probability was David Crean, managing director of San Diego's Objective Capital Partners, who leads the firm's life science investment banking deals.
"I've always been in love with the delivery platform," Crean said.
Last year Halozyme reported positive phase 2 results, including a statistically significant increase in survival of Stage IV pancreatic cancer. There was a 91 percent improvement in median progression-free survival, with 8.6 months for patients taking PEGPH20 versus 4.5 months in the control arm.
PEGPH20 saw bumps along the way.
Dealing With Adversity
In 2014, Halozyme ceased a PEGPH20 trial after an independent data monitoring committee reported a potential blood clot issue. Days later the FDA enacted a clinical hold.
"It was a surprise to everybody, including our investors," Torley said. "At that point, it was, 'Why is this happening? What can we do to prevent it? And can we and should we restart the study?' I was only four months in as CEO, and I was so impressed with the team here. They were so quick to just get to the science."
The hold was lifted after several weeks. The company found no conclusive cause for the blood clot events, and as a precaution the restarted study excluded patients at higher risk of the health issue.
While Enhanze and PEGPH20 differ — one a technology platform, the other a drug — they're complementary.
Enhanze generates a steady stream of cash to help fund PEGPH20. So, Halozyme, unlike many biotechs, doesn't rely on the good faith of investors alone.
When capital markets were tight in early 2016, Halozyme secured a $150 million loan, backed by future Enhanze royalty payments.
"We have a unique business model that allows us more options and flexibility than many single-product oncology companies," Torley said.
A physician-turned-businesswoman with much experience in pharmaceuticals, she took the reins in 2014. Early on Torley narrowed the company's focus.
She cut the company's diabetes program — despite somewhat promising drug data — to shift resources to oncology.
Restructuring
From 2014 to 2015, Halozyme went from 220 to 150 employees.
"As a CEO, anytime you have to restructure the company, that is an incredibly difficult, difficult decision," Torley said.