New Tour Bus Service To Launch in S.D.
Thursday, March 8, 2018
A new tour bus service will launch in San Diego early April called The Hopper. Created by WTDSD LLC based in San Diego, The Hopper lets customers "hop on & off" at major tourist attractions.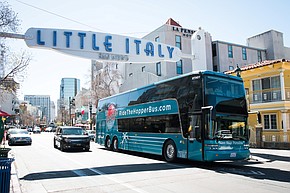 Riders will be able to board and depart the buses at any of six tour stops: Old Town, Embarcadero, Seaport Village, Gaslamp Quarter, Balboa Park, and Little Italy. The buses will stop at these locations every 30 minutes. The basic tour package will cost $49.
Travelers can upgrade to a $99 package which includes admission to major attractions along the tour route, including Hornblower harbor cruises, USS Midway Museum, and the Maritime Museum.
The Hopper fleet will feature double-decker buses with climate control, concessions, extra storage, and restrooms. Technology features like 4G Wi-Fi and electrical outlets for charging phones and cameras are available on board.
WTDSD (which stands for World's Top Destination San Diego) is a tourism and transportation company operating in San Diego as The Hopper. They also have a ticket reseller in New York City called Fun Group.
WTDSD hasn't tried the tour bus and ticketing service combination concept before. However, the company believes it can compete with existing tour companies in San Diego because The Hopper will integrate both two services.
"There are certainly similar concepts in New York City or something like that but we believe it's unique and new in San Diego," says Doug Porter, WTDSD partner and chief marketing officer.
Tickets will be sold online, at The Hopper office in Old Town, or at kiosks opening around San Diego starting in early Spring. An official launch date hasn't been chosen yet.