Doggie Gras' Canine Couture Pays Off for Animal Center
Monday, March 5, 2018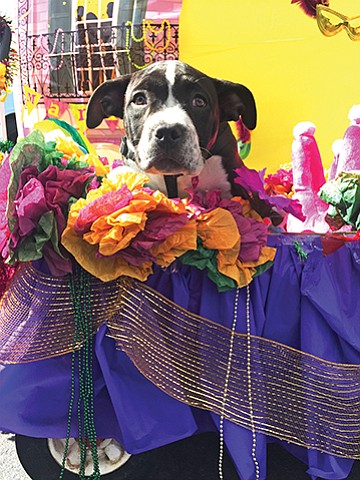 San Diego — Helen Woodward Animal Center announced it put on its Sixth Annual Doggie Gras Parade that showcases its "orphaned" pets by marching into the farmers market in Rancho Santa Fe. The event invited participants to support animal rescue "Mardi Gras-style" by creating colorful costumes and parade floats for the participating animals.
The event culminated in awards for the "2018 Best Doggie Gras Float" and "2018 Best Dressed Pet" with special gifts from Foppers Gourmet Treat Bakery awarded to the winners. Canine competitor Sir Ruffles Von Plume took the 1st place award for his costume and terrier Sammy King Octodog took home the 1st place award for his bubbly "Under the Sea" themed float. All money raised from contests and opportunity drawings went directly to the pets and programs at Helen Woodward Animal Center. Visit animalcenter.org.
• • •
San Diego Grantmakers announced that it has two new additions to its leadership. Alan Kwok is the new director of learning and will oversee and provide strategic direction for a suite of engaging learning opportunities for its 115 funder members. Kwok's 15-year career includes a recent multiyear FEMA award-winning Bay Area disaster resilience program at the American Red Cross.
Nancy Sasaki, the executive director of the Alliance Healthcare Foundation is now the chairwoman of SDG's board of directors for a two year term, continuing the work of David Lynn of the Lynn Family Fund at The San Diego Foundation. Lynn, in the role of past chairman, will support Sasaki during the next year. Sasaki's previous experience includes the role of VP of Planned Parenthood of the Pacific Southwest and as the executive director of the ACLU of San Diego & Imperial Counties. Visit sdgrantmakers.org.
• • •
Lyft, a U.S. rideshare company, announced that it launched a new program to support the work of San Diego area nonprofit organizations focused on building stronger, healthier, more equitable communities. Every month, starting in February 2018, Lyft will award one nonprofit $1,000 in Lyft ride credits to ease transportation challenges and support its work to create positive change in the San Diego region.
The San Diego Community Grants program was developed to help Lyft identify and connect with some of San Diego's hardest working organizations. The $1,000 in ride credit is awarded each month and recipients are selected through a competitive application process. Any nonprofit organization that operates in San Diego County is eligible to apply for a grant. Visit lyft.com/cities/san-diego-ca
• • •
The San Diego Foundation announced $632,934 in grants for 10 programs that strengthen San Diego's innovation economy by creating more opportunities for students, particularly from underserved communities, pursuing STEM (science, technology, engineering and mathematics) opportunities.
The San Diego Foundation Science & Technology Program grantmaking supports the findings from "Our Greater San Diego Vision," a report that found that a majority of residents want to increase opportunities for those who work and learn in the San Diego region.
According to the 2016 CONNECT Innovation Report, the regional innovation sector accounts for more than 25 percent of San Diego's economic activity, or GDP. The science and technology grants increase regional efforts to create and expand a pipeline connecting young adults underrepresented in STEM to college and career opportunities.
The grant recipients include: Elementary Institute of Science, Ocean Discovery Institute, Access Inc., The Maritime Alliance Foundation, San Diego Mesa College, UC San Diego Foundation, California State University San Marcos Foundation, Miramar College Foundation, Wintriss Technical Schools (The League of Amazing Programmers), and the Research for Autism and Development Lab at University of California, San Diego.
"Science is a catalyst of prosperity for the San Diego region and those who live in it," said Kathlyn Mead, president/CEO of The San Diego Foundation. "By opening more pathways for local youth to become scientists and engineers, we are supporting the scientists and engineers of tomorrow who will strengthen San Diego's innovation economy for decades to come." Visit SDFoundation.org/ScienceTech
Send Kudos/Giving items to
sglidden@sdbj.com.