Construction Jobs Well Done
Monday, March 5, 2018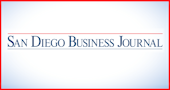 San Diego — San Diego's Skyline Hills Branch Library and Kaiser Permante Medical Center in Kearny Mesa were named two of the best construction projects of 2017 by the Associated General Contractors of America, with awards going to Barnhart-Reese Construction as the general contractor.
"These awards epitomize the latest and greatest projects the construction industry has to offer," said AGA President Art Daniel, president of AR Daniel Construction Services in Cedar Hill, Texas.
Daniel said Barnhart-Reese and other companies receiving the awards demonstrated "outstanding skill, collaboration and innovation to complete some of America's most complex and ambitious projects of 2017."
The 15,000 square foot Skyline Hills Branch Library at 7900 Paradise Valley Road replaced a 4,400 square foot older library that was razed.
Building it was a challenge because of its location next to a busy bus route, an apartment building and the old library it replaced, AGA said in making the award.
The library achieved LEED (U.S. Green Building Council Leadership in Energy and Environmental Design) silver certification.
In honoring Barnhart-Reese for its work on the Kaiser Permanente San Diego Medical Center, the AGA said the project was completed six months ahead of schedule and $50 million under budget.
The seven-story, 617,000 square-foot hospital at 9455 Clairemont Mesa Blvd. includes more than 300 single-patient rooms, 10 operating rooms, a sterile processing department, and labor delivery, and neonatal intensive care units.